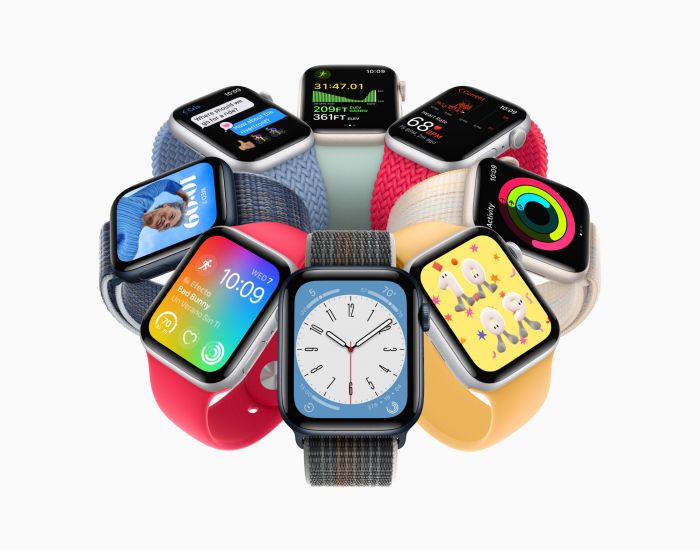 Apple
The latest iteration of Apple Watch – the Series 8 – adds some fantastic new health and safety features, of which the most notable is a temperature sensor which has some intriguing uses for women's health and fertility tracking.
Aesthetically, there is little to distinguish the Series 8 from the Series 7. The iPhone-only compatible smartwatch has an ultra-smooth metal body, bright and clear always-on display, and a battery life of approximately 36 hours between charges (including sleep tracking). It remains the most sophisticated, high-powered smartwatch available to buy.  
In addition to the existing fall detection feature, the Series 8 is equipped with an accelerometer and gyroscope, which can detect the substantial forces associated with a car crash, and automatically call the emergency services if the user does not respond within ten seconds; a potentially lifesaving feature that, fingers crossed, will not have to be deployed, but is certainly good for peace of mind. 
Another new attribute of the watch is a pair of temperature sensors that can monitor temperature fluctuations in the wearer's wrist overnight, establishing a baseline over five nights with sleep tracking enabled. The temperature reading is not totally precise, but small variations can point to various situations, such as alcohol consumption, exercise, jet lag, pregnancy, or sickness. The temperature data can be viewed alongside sleep within the iPhone's Health app. These sensors, combined with other sensors on the reverse of the watch measure blood oxygen levels, and heart rate, take ECGs, and facilitate a comprehensive range of general health tracking features. 
The principal application of the sensor is for elective enhanced tracking of women's basal body temperature for monitoring the menstrual cycle and ovulation. The watch records the small rise in body temperature that usually occurs after ovulation, which it amalgamates with stored cycle data to give a retrospective estimate of the day of ovulation. It takes on average approximately two monthly cycles for the estimates to be deciphered, but it is undoubtedly a valuable tool for those trying either to become pregnant or avoid being so, as well as those generally observing cycle health for abnormalities.
All health data gathered by the watch – including cycle data, ECG results, and heart rate is logged in the Health app on the linked iPhone, and, reassuringly, is end-to-end encrypted when backed up to the user's iCloud account. This means that the data may only be viewed by the user and any third parties that are intentionally given access to it, such as a medical professional or a partner. It is important to note that neither Apple nor any third parties can access it.
WatchOS 9
The recently released watchOS 9 software added new watch faces, sleep stage tracking (with comparison charts in the app on the iPhone), and a host of other enhancements, such as the ability to set reminders to take medications and to keep a log straight from the wrist. Notifications no longer hijack the screen when you're actively using it, appearing as smaller banners that can be expanded as they do on an iPhone. Apps running in the background are more prominent in the dock, while the calendar app has been revamped for better week and day views. One of the best improvements was to the workout app. The watch can now record running power without an accessory and can show more metrics such as stride length, ground contact time, vertical oscillation, and heart rate zones. Users can now customize interval workouts too. The Series 8 uses about 15% of the battery tracking an hour-long run, so can last the span of a marathon.
Specifications
Case size: 41 or 45mm Case thickness: 10.7mm Weight: 32/38.8g or 42.3/51.5g Processor: S8 RAM: 1GB Storage: 32GB Operating system: WatchOS 9 Water resistance: 50 metres (5ATM) Sensors: HR, ECG, spO2, temp, mic, speaker, NFC, GNSS, compass, altimeter Connectivity: Bluetooth 5, wifi n, NFC, UWB, optional 4G/eSIM 
Price
The Series 8 comes in two sizes and two different materials, plus the option of 4G that requires an eSIM and compatible phone plan add-on.
The aluminum or Nike versions in 41mm £419 ($399/A$629). 4G models cost an extra £110 ($100/A$160). Stainless steel models cost from £729 ($699/A$1,099). 
For comparison, the Apple Watch SE costs £259, and the Apple Watch Ultra costs £849.
Conclusion
The Series 8 includes several meaningful updates to the Apple Watch, particularly in the realm of health and safety. Crash detection is an invaluable feature for peace of mind, albeit one that you hope you'll never have to use. Ovulation tracking is a beneficial feature, and it is worth noting that there is a paucity of consumer wearable devices (certain Fitbits, and the Oura Ring) offering analogous features. It is good to see that women are being enabled to collect more granular data on a mainstream device. Moreover, data from the temperature sensor may also yield information pertaining to other wellness features in the future.
If you are looking for a new general smartwatch for an iPhone, the Apple Watch Series 8 is the best one you can buy: it is vastly superior to any comparable device.
To purchase, please visit Apple Watch 8 website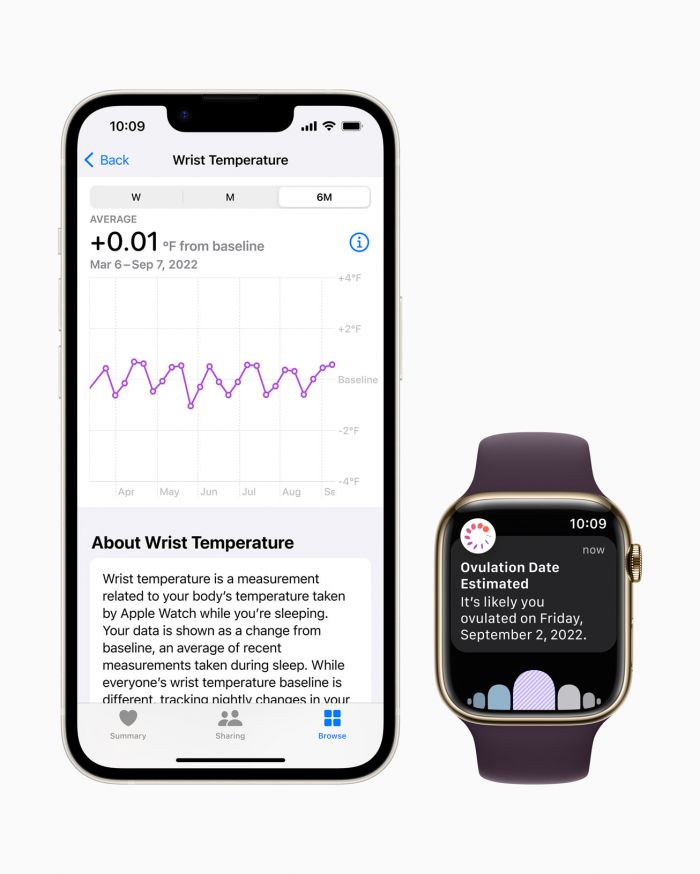 Apple
Users who utilize the new temperature-sensing capabilities in Apple Watch Series 8 can receive retrospective ovulation estimates and improved period predictions, which can be helpful for family planning.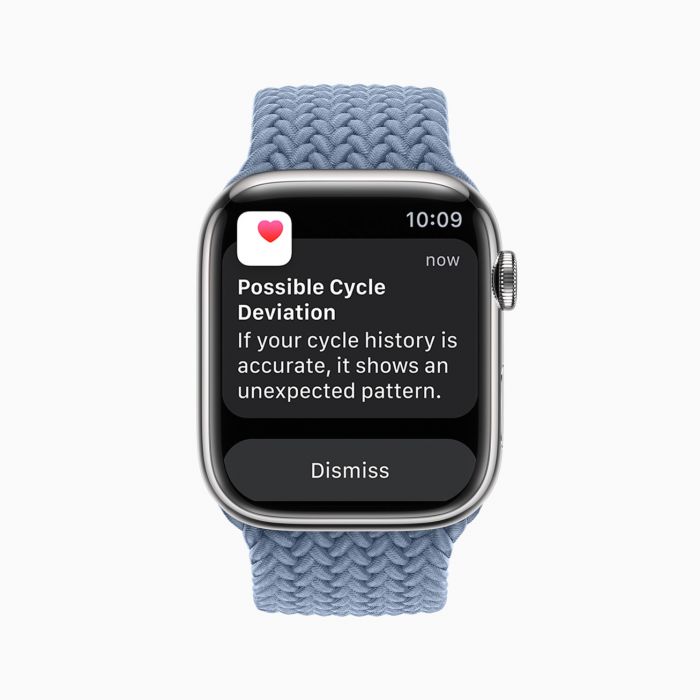 Apple
New with iOS 16 and watchOS 9, Cycle Tracking can now send notifications if a user's logged cycle history shows a possible deviation, including irregular, infrequent, or prolonged periods.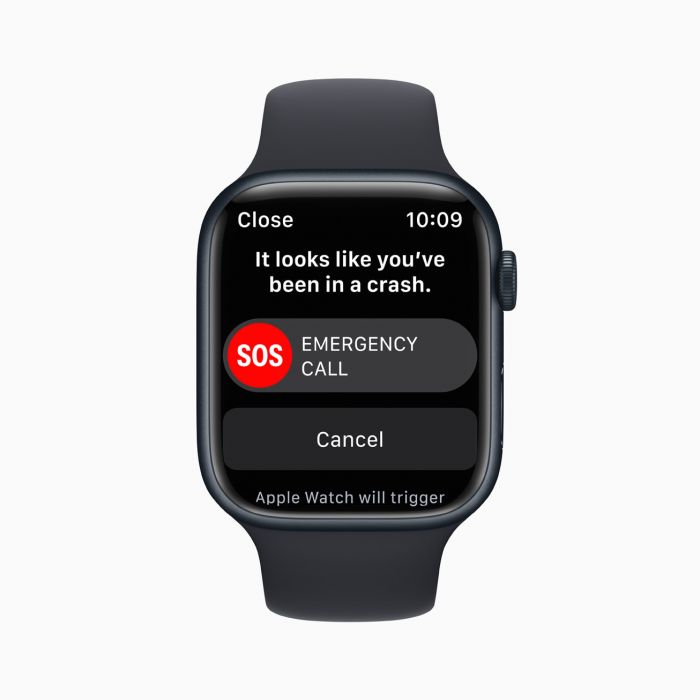 Apple
Crash Detection leverages an advanced sensor-fusion algorithm and a new, more powerful accelerometer and gyroscope in Apple Watch to detect and deliver accurate car crash alerts, and if a user is unresponsive after a ten-second countdown, will dial emergency services.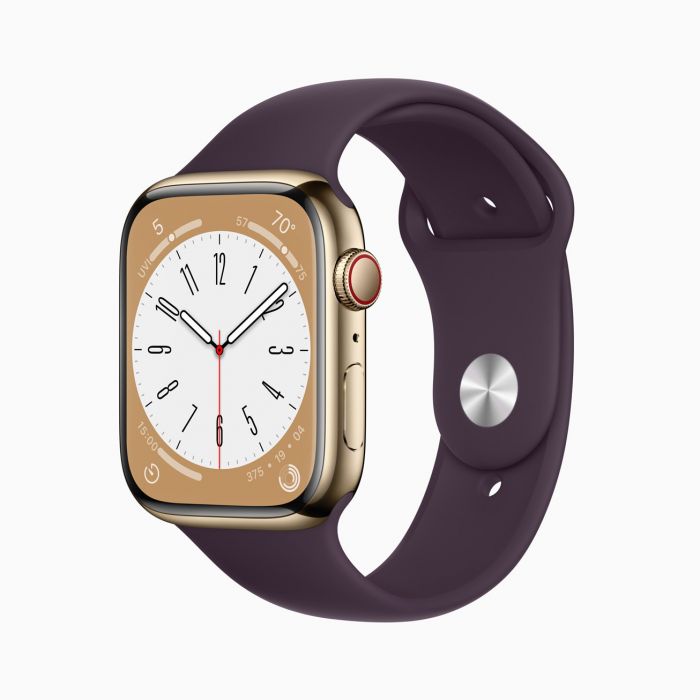 Apple
Apple Watch Series 8 comes in starlight, midnight, silver, and (PRODUCT)RED aluminum cases, and silver, graphite, or gold finishes in stainless steel.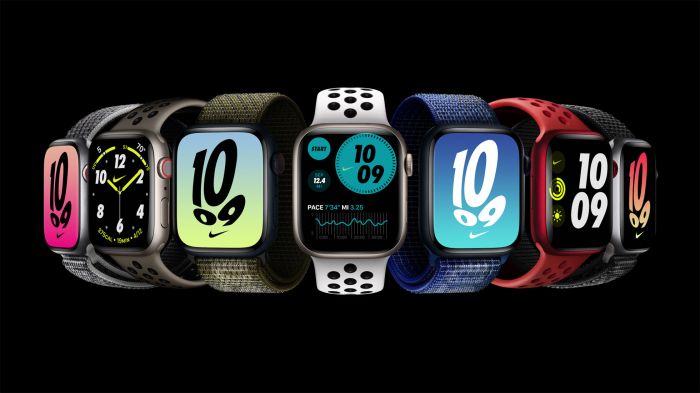 Apple
Apple Watch Nike features vibrant new Sport Band colors and a new Sport Loop with "Just Do It" woven right into the band.