Columbia Hillen
Once known for its mass tourism strategy, Tunisia is now placing more emphasis on the luxury sector with upscale accommodation such as Movenpick Hotel du Lac Tunis, Maison Dedine and Hotel La Badira having the trained staff and facilities to satisfy this sector. 
Here are a few highlights to savour from my recent visit there.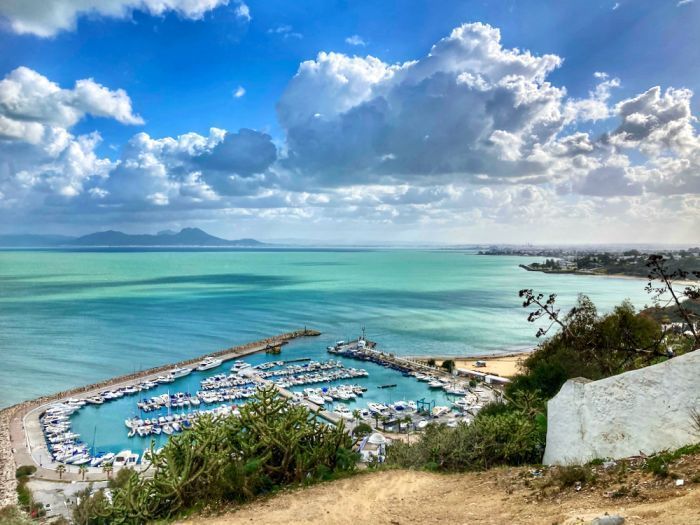 Columbia Hillen
SIDI BOU SAID 
On a promontory overlooking the Mediterranean, this charming, cliff-top village is known for its cobbled streets, blue-and-white houses and a string of cafes, souvenir stores and art galleries.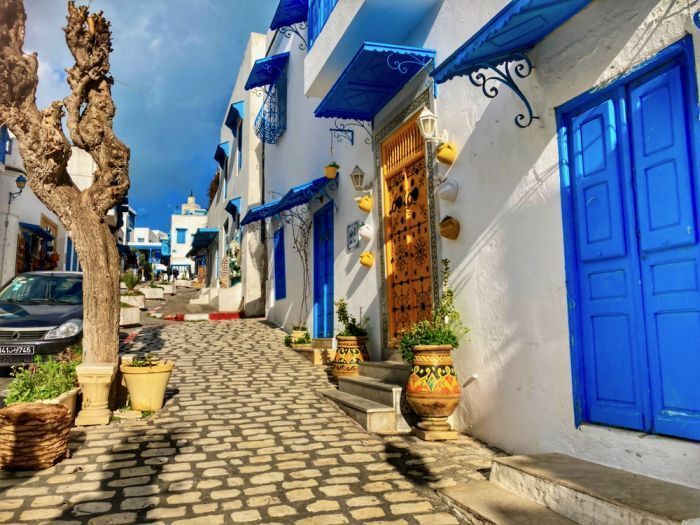 Columbia Hillen
Filled with whitewashed homes, many boasting carved stone, ceramic tile and marble decor, it once was an artists' retreat attracting such luminaries as Swiss-born painter Paul Klee and Irish writer, Oscar Wilde.
Named after a 13th-century Sufi prophet, its distinctive architecture is a mix of Ottoman and Andalusian due to the arrival of Spanish Muslims in the 16th century.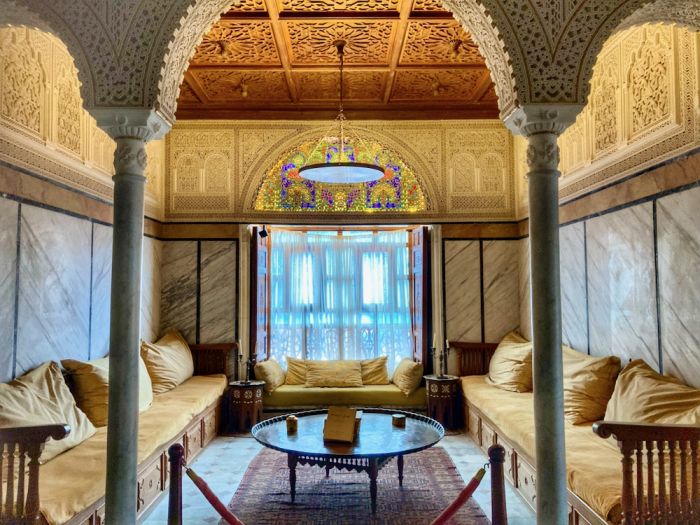 Columbia Hillen
Highlight of a visit here is Dar Ennejma Ezzahra, a palace-cum-museum and the former home of banker, painter and music collector, Baron Rodolphe d'Erlanger. Wander its interconnecting rooms, a fascinating mix of Modernist architecture and traditional Maghrebi and Andalusian design featuring a central fountain, carved stucco and wooden inlay, marble floors and columns and ornate furniture.
Interestingly, in addition to d'Erlanger's many works, the museum houses an internationally renowned collection of traditional musical instruments dating back centuries. Several of the restaurants and cafes within walking distance of the museum offer panoramic views over the coastline.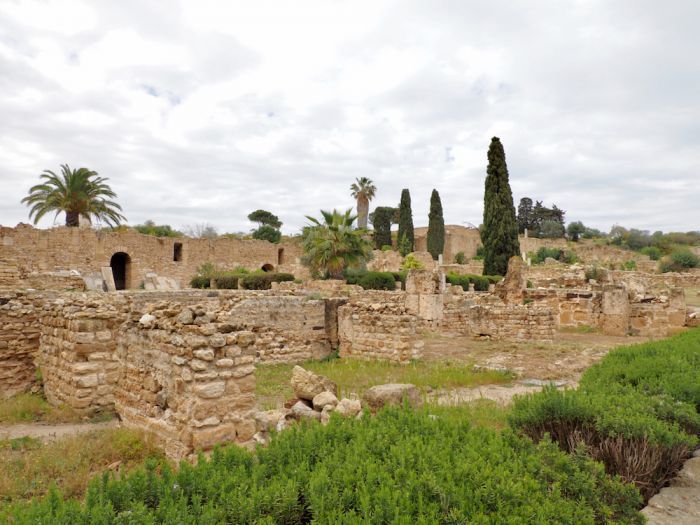 Columbia Hillen
CARTHAGE
Founded by the Phoenicians and once capital of the province of Africa in Roman times, Carthage is now a UNESCO World Heritage archaeological site on a hill above the Gulf of Tunis. Located in the suburbs of Tunis, the area reflects various aspects of life and death in ancient times, including the remains of villas with colorful outdoor mosaics, an acropolis, an amphitheater, basilicas, baths, cisterns and a necropolis.
The Carthage Museum nearby houses a range of artifacts including 4th-century BC stone sarcophagi and a statue of Silenus, companion of Bacchus, the Roman god of wine and pleasure.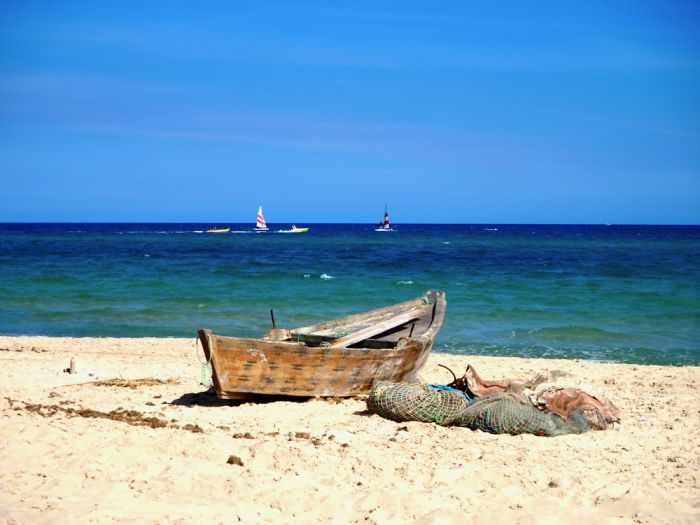 Columbia Hillen
YASMINE HAMMAMETWith its sandy beaches, upscale marina, restaurants and shops, this is a lively resort on Tunisia's northern coast. Such has been its rapid development from a quiet fishing port several decades ago, it now has more than forty hotels and a series of therapeutic seawater spas.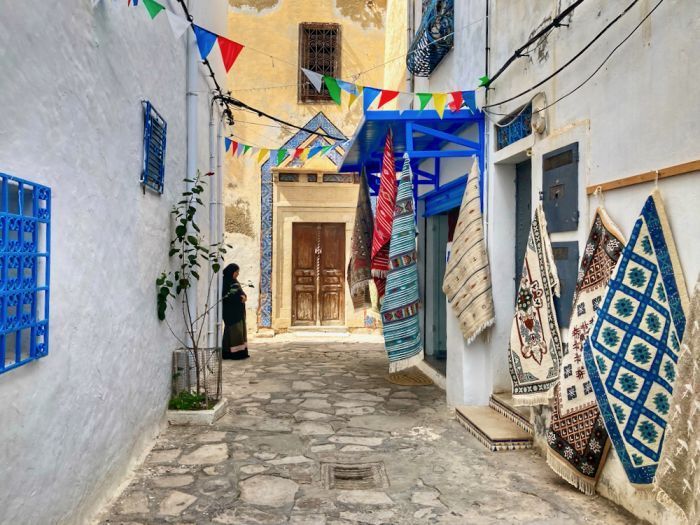 Columbia Hillen
For a trace of old Tunisia take a stroll through the quaint medina quarter in Hammamet, a town that became popular in Europe after artists such as Paul Klee visited and painted there. Take a seat on the seaside terrace of Cafe Sidi Bouhadid – probably the most popular place in town – and relax waterside between the town's sturdy stone walls and fishing boats bobbing offshore.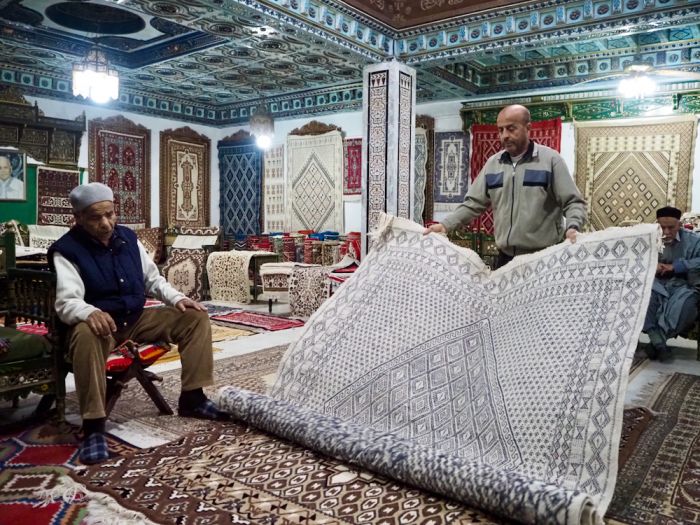 Columbia Hillen
KAIROUAN 
Known as the carpet capital of Tunisia, legend has it that the daughter of an Ottoman governor weaved a deep-pile carpet as an offering to the mosque. Thus a long-lasting tradition was born and still thrives. It's easy to visit a carpet maker here.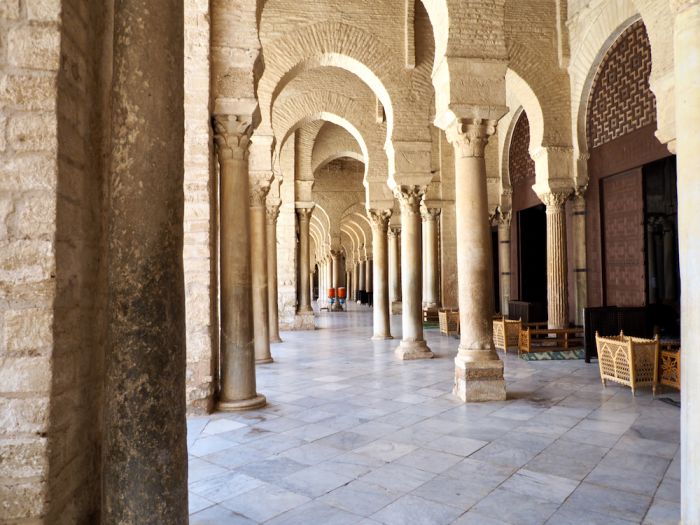 Columbia Hillen
Located in the center of the country, the city is also known for its 9th century Mosque, the oldest Islamic building in North Africa, with some saying it's the fourth most important Islamic site after Mecca, Medina and Jerusalem.
It features a vast inner courtyard surrounded on three sides by double-aisled colonnades of antique columns. The Barber's Mosque nearby is also worth visiting to see its impressive tiled walls.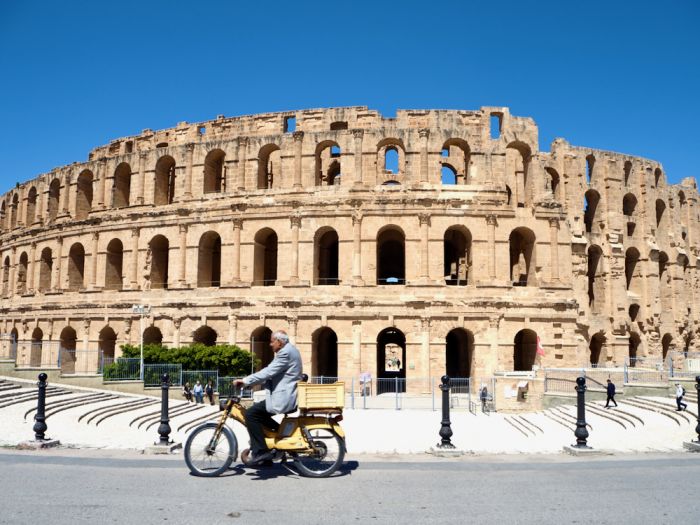 Columbia Hillen
Bread-making is an art-form in Kairouan, created in all shapes and sizes, made with ingredients ranging from black olives to semolina and honey. Pick one up and enjoy as a snack.
About 70 kilometers from Kairouan is El Jem, home of the 2nd century Roman amphitheater, the fourth largest in the world, with preserved sections of seating tiers rising forty meters. The building's size reflects the town's importance as a major olive-growing center during the Roman Empire.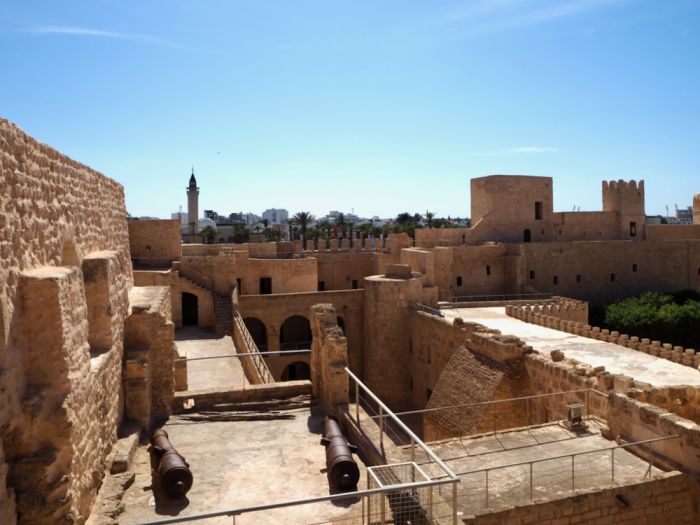 Columbia Hillen
MONASTIR
Aside from its long stretches of white-sand beaches and its marina with cafes, ancient defensive fortresses called ribats make this central coastal town historically interesting. The Monastir ribat is a labyrinth of corridors and courtyards, crenellated walls and tall towers with broad views across the Mediterranean. Aside from its role in protecting the region, it was also a place of spiritual retreat for Sufi aesthetics, with one proverb calling it the 'gateway to paradise.'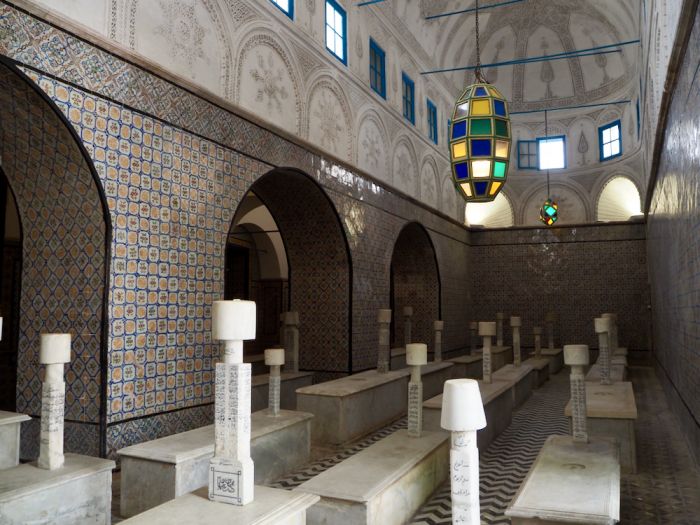 Columbia Hillen
TUNIS
A busy capital with a Medina declared a World Heritage Site by UNESCO, Tunis also hosts the National Bardo Museum and Tourbet el-Bey, a recently re-opened mausoleum housing the tombs of ruling families. It comprises eight funerary chambers covered with cupolas built around two patios, its porticos resting on pillars of Carrara marble.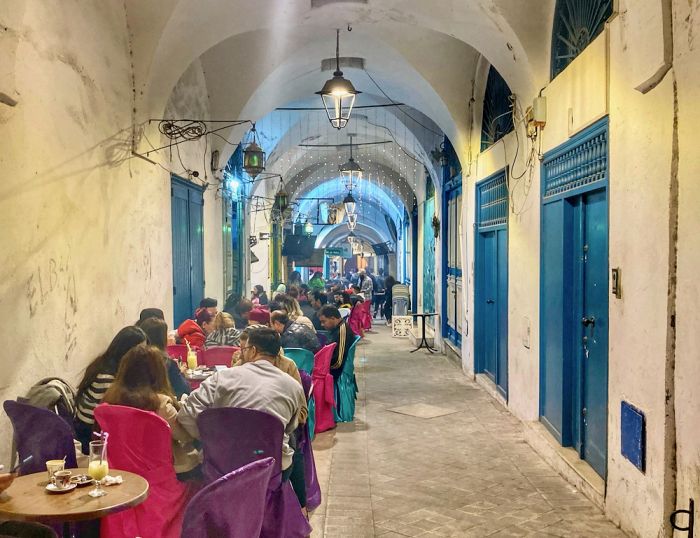 Columbia Hillen
If you visit Tunisia during Ramadan – an opportunity to experience an authentic way of life, when people fast by day and feast by night – it is worth taking a trip to the medina at night. When my companion and I did so, the cafes were bursting with young and old, all enjoying lively conversations over teas and soft drinks until the early hours.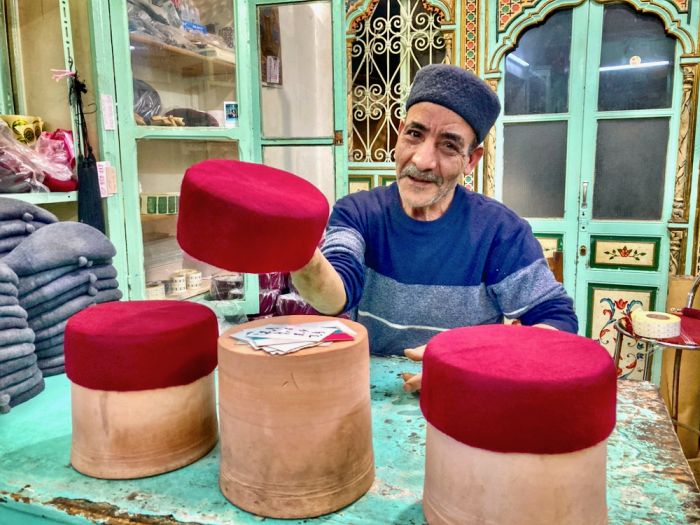 Columbia Hillen
Some artisan shops stay open late then, luring visitors with crafts ranging from gold jewelry to fez hats handmade from felt and popularised during the Ottoman period. 
For more information discover Tunisia here