Despite the age of consent in Mississippi being 16, no one under the age of 18 will have access to digital materials made available through public and school libraries without explicit parental/guardian permission.
Mississippi has a new law on the books directly impacting access and use of digital resources like Hoopla and Overdrive for those under the age of 18 throughout the state. Even if granted parental permission, minors may not have materials available to them, if vendors do not ensure every item within their offerings meets the new, wide-reaching definition of "obscenity" per the state. Mississippi Code 39-3-25, part of House Bill 1315, went into effect July 1, 2023, and libraries across the state have scrambled for how to be in compliance.
(1)  A public library may offer digital or online resources or databases to persons only if the vendor or other person or entity providing the resources verifies that all the resources will comply with the provisions of subsection (2) of this section.

 (2)  A vendor or other person or entity providing digital or online resources or databases under the authority of this section must have safety policies and technology protection measures that:

          (a)  Prohibit and prevent a person from sending, receiving, viewing or downloading materials that are:

               (i)  Child pornography;

               (ii)  Materials that depict or promote child sexual exploitation or trafficking;

               (iii)  Obscene materials, as defined in Section 1 of this act;

               (iv)  Inappropriate materials depicting or dealing with matters of sex, cruelty and violence in a manner likely to be injurious or harmful to a child; or

               (v)  Materials that are sexually oriented, as defined in Section 97-5-27(2); and

          (b)  Filter or block access to obscene materials, inappropriate materials, materials that are sexually oriented or materials that depict, describe or promote child pornography or child sexual exploitation.
The definitions of what does not meet the standards above refer back to a different Mississippi code, Section 97-5-27. It defines "sexually oriented" materials as:
[A]ny material is sexually oriented if the material contains representations or descriptions, actual or simulated, of masturbation, sodomy, excretory functions, lewd exhibition of the genitals or female breasts, sadomasochistic abuse (for the purpose of sexual stimulation or gratification), homosexuality, lesbianism, bestiality, sexual intercourse, or physical contact with a person's clothed or unclothed genitals, pubic area, buttocks, or the breast or breasts of a female for the purpose of sexual stimulation, gratification or perversion."
Distribution of such materials can lead to fines beginning at $500. Moreover, failure to comply with the requirements would put libraries and schools in the position to withhold payment to the vendors.
By definition, any vendor is out of compliance by simply having materials available in their system which depict sexual reproduction or queerness in any capacity. Images of nude female breasts–which are often part of sexual education, reproductive education, and/or biology and anatomy books written for those under the age of 18–would be out of compliance with the law.
Platforms like Hoopla and Overdrive are not set up to create systems which change access based on age or varying laws by municipality. Library staff are also unable to preview and rate every item available within such platforms, leading to a position to shut down access all together.
It is, of course, one more step toward killing public goods like libraries and one more step toward creating systems wherein young people in some states are granted access to a world of knowledge and resources and young people in other states are shut out entirely.
First Regional Public Library posted this announcement on their homepage: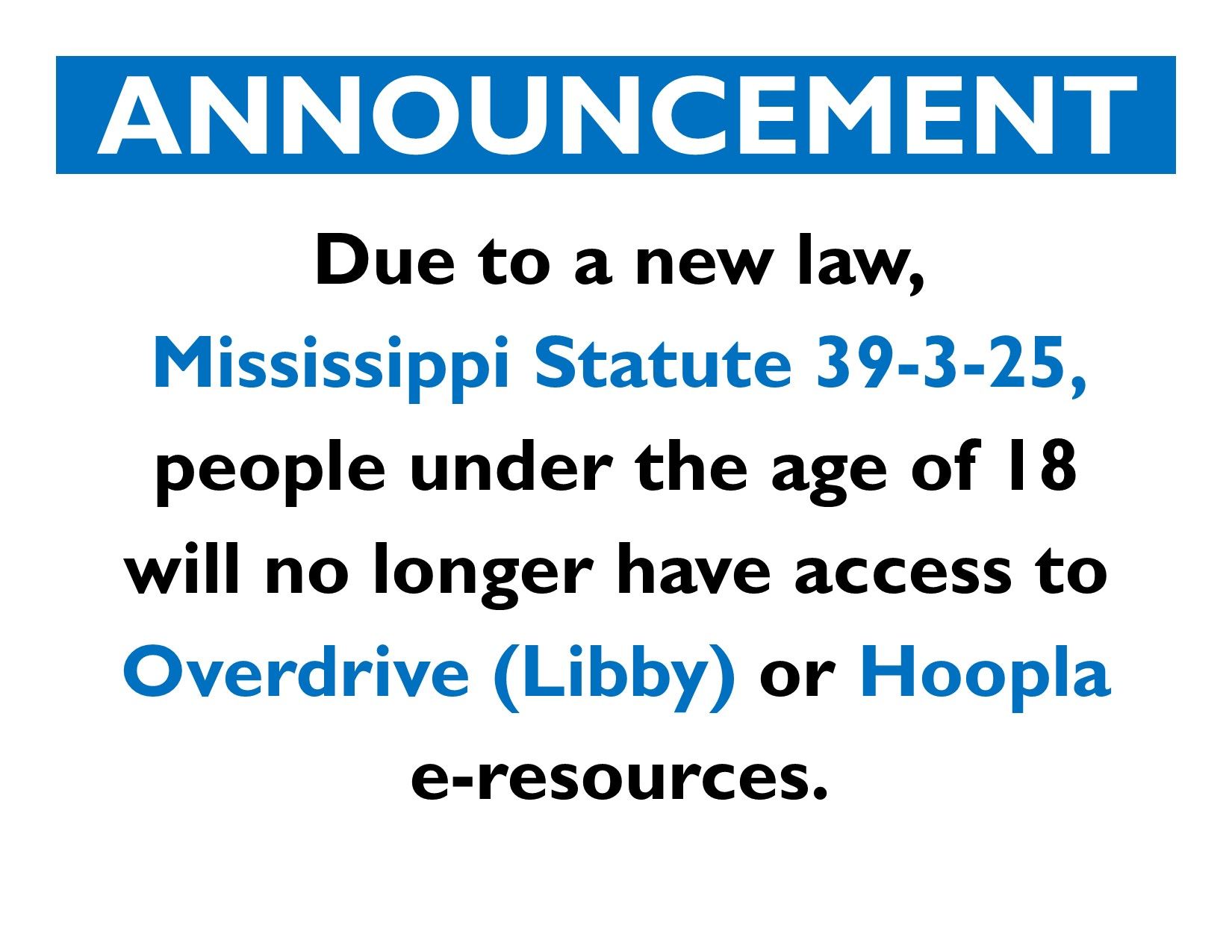 Vicksburg Public Library is still working on figuring out how the law will impact their patrons' access to digital materials. For now, they've developed a new system of library card distribution. Those who once had library cards given without parental permission at age 16 or 17 now will need to come back to the library with a parent for legal guardian for a card. All of those accounts will be placed on hold until the permissions are secured, locking access to materials. No one may request a card prior to turning 18 without consent.
This move by the state ensures that those with the least privileges–those in unstable homes, those without regular internet access, and those without active parents or guardians in their lives–have even fewer opportunities to utilize public goods and services. It in turn protects the library, which is not in the position to determine the suitability of every book in the library per the law's definition of inappropriate.
No information was readily available about the impact of the new law on the Sora app–part of Overdrive's slate of products–or similar digital media platforms purchased and utilized by school libraries across the state.
Mississippi is not the first state to radically limit access to materials and place the onus of compliance with their laws on the vendors. The same is under way in Texas, and chances are, this will mean the same, if not more dire, lock outs of material access for students state wide.