Cantina Vivera Winery. Photo courtesy of Assovini Sicilia
Of all of my writing assignments, my favorite is wine-exploration travel. I love learning about the world's varied wine regions, and the differences and similarities in wine production around the globe. As one whose primary wine region of coverage is Napa—where Cabernet reigns as king—the number of global grape varieties never ceases to amaze me, most of which I'm simply not familiar.
A recent trip to Sicily's Verdura Resort, a Rocco Forte Hotel, serendipitously led me to Nando Papa, head sommelier for the resort and its various dining venues, including Zagara, named for the fragrant orange blossom that scents the beachfront estate property situated along the island's southern coast. Papa conducted for me within his Verdura wine cellar a 'Sicilian Wine 101' session, sharing his thoughts and particular favorites.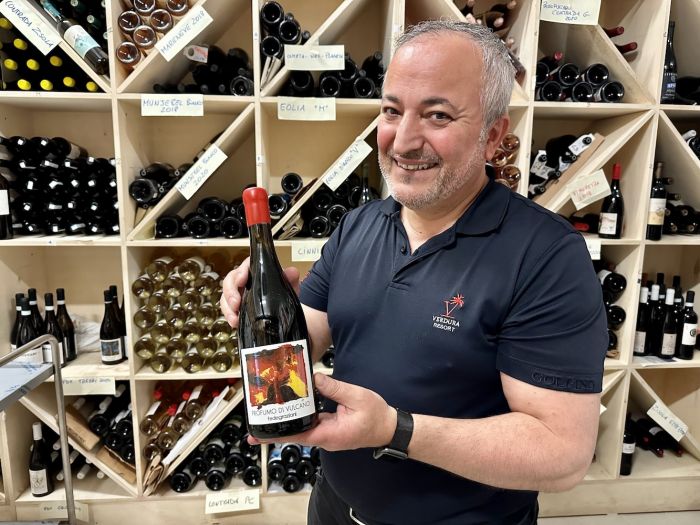 Verdura Resort head sommelier Nando Papa displays his favorite Sicilian wine
Originally from Caserta, Italy, Papa began his career in Monte Carlo. His professionalism and passion for 'vino buono' found him as runner-up in the wine industry's version of the Oscars in 2000. In 2018, he was honored with the title of 'Chevalier' of the Ordre des Coteaux De Champagne in 2018. He has worked in Michelin starred restaurants along the Amalfi Coast, and in Lake Como's glorious Villa D'Este. Many years ago, he spent nearly a year under the tutelage of the famed Bo Barrett at Napa's Chateau Montelena. In addition to his duties at Verdura, he curates private wine collections for a number of high profile clients. Papa ended up in Sicily a decade ago, where he loves sharing with Verdura guests, such as myself, the stories of the region's delicious wines.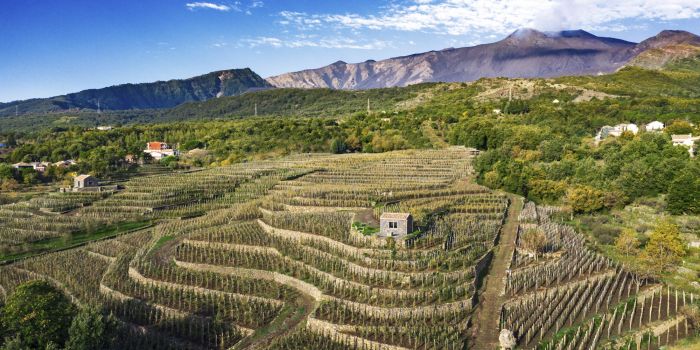 Benanti Contrada Winery. Photo courtesy of Assovini Sicilia
Sicily is one of Italy's top wine producing regions. At 10,000 square miles, it is also the country's largest wine producing region, topping Tuscany. The island features 23 DOCs and 1 DOCG (Cerasuolo di Vittoria, located between Ragusa and Syracuse, in the southeast.) Three key red grapes dominate here: Nero d'Avola, Frappato and Nerello Mascalese (similar to Sangiovese.) For white, it's Catarratto, Grillo, and Inzolia, used in the base blend for Marsala, and Carricante, grown in the shadow of volatile Mt. Etna, Europe's largest active volcano, and according to Papa, Sicily's most important and impressive wine region that features rocky, black lava soil of ash and sand, rich in minerals and nutrients such as iron, copper, magnesium, and phosphorus.  
In the past 20 years, dozens of winemakers have planted within Etna's steep slopes vineyards that seemingly defying gravity, and that make hand harvesting a must. Bright sunny days and cold nights deliver crisp, minerally whites and bold reds, for which an often delicate color makes for a palate surprise. Papa's personal Sicilian favorite is the Mt. Etna produced Profumo Di Vulcano from winemaker Federico Graziani. Made from a small vineyard on Etna's northern slope in the Passopisciaro district of Contrada Feudo di Mezzo, (Castiglione di Sicilia), the wine's vines, average 100 years old and represent the best of Etna's native species. Ruby in color, an aroma of raspberries and wild blueberries, citrus, Mediterranean scrub, orange, tangerine, marjoram and myrtle opens to the sweet spiced notes, sandalwood and pipe tobacco.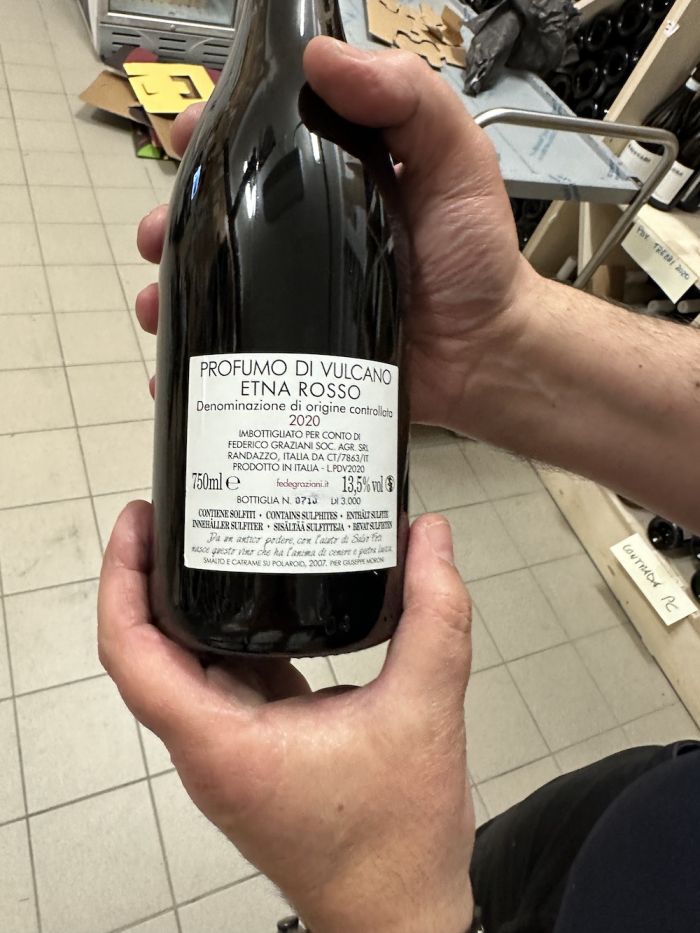 The back label of Profumo Di Vulcano from winemaker Federico Graziani.
I on the other hand, was drawn during my visit to an Etna Carricante: Primazappa Etna Bianco Superiore by Calcagno. Fresh and elegant, this Etna Bianco is balanced and refined. Aged 50% in barriques, it offers a fine and subtle nose and a long and savory taste with straight mineral hints, accompanied by notes of hydrocarbon and a light toasting.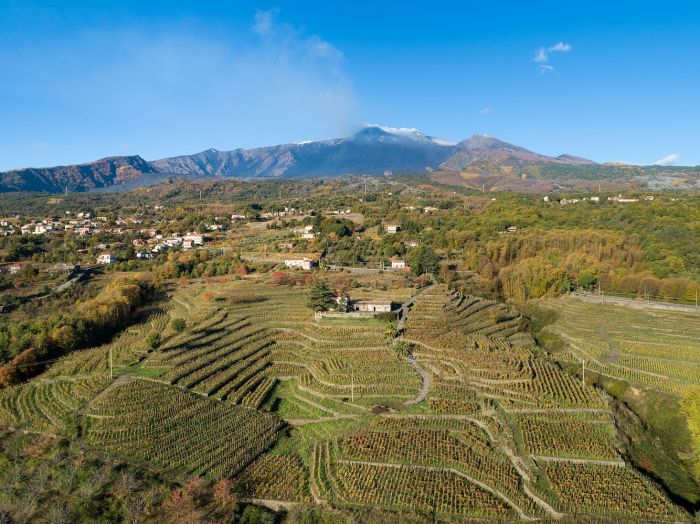 Maugeri Winery. Photo courtesy of Assovini Sicilia
With my newfound Sicilian wine knowledge, I plan to peruse the wine displays for Etna-derived varietals at my local wine shops. A great and memorable wine has the ability to transport, and I look forward to revisiting Sicily, even if only via my palate.