Courtesy of Alive Coverage for On Location
When the "world's greatest collector car auction" rolled into Palm Beach last month, car aficionados knew they were in for something special. Located at the South Florida Fairgrounds, the 2023 Barrett-Jackson Palm Beach Auction took place April 13 to 15th.
From Thursday through Saturday, guests enjoyed everything from outdoor exhibitor displays with official merchandise to a performance track featuring thrill rides and hot laps. One of the most luxurious ways to celebrate the auction in style though was through the exclusive VIP Experience packages offered by On Location Events.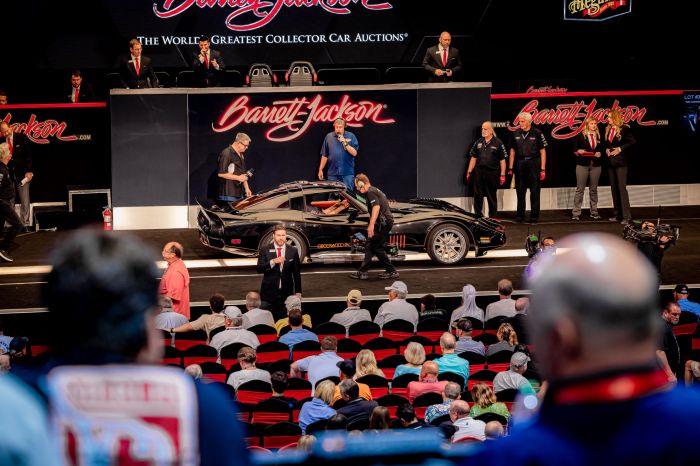 Courtesy of Alive Coverage for On Location
From lavish gourmet food and beverage offerings to premium seating, we had to find out how the partnership between On Location Events and Barrett-Jackson came about.
"We were trying to find a marriage between our target audience and offering a VIP upscale experience that we could tie in locally at each location," said Kevin Harrington, vice president, consumer communications of Endeavor, which owns On Location Events. "The Barrett-Jackson piece is new. They became a part of the Endeavor family last year. On Location has been around since 2015."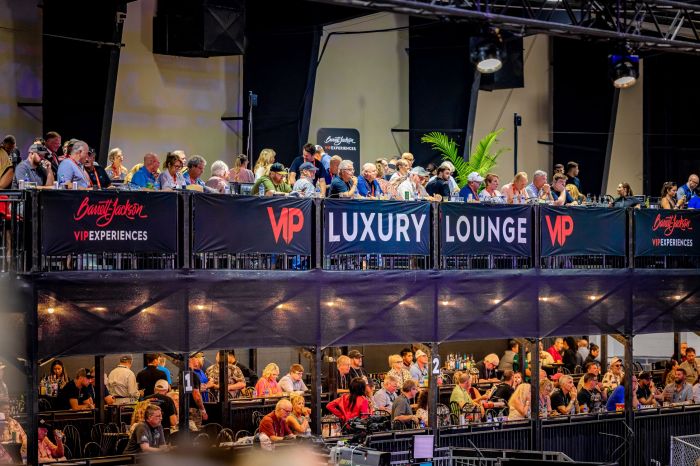 Courtesy of Alive Coverage for On Location
While best known for hosting VIP Experiences at the Super Bowl, they have recently expanded their roster of clients.
"The biggest notion was that we were only to the NFL with Super Bowl events," Harrington said. "Once Endeavor came in, the On Location experiences grew to not just NFL-specific events. Now, we host experiences at Fashion Week, the US Open in June, the UFC Fight Week in July in Vegas, March Madness and the Indy 500, to name a few. We are also doing some things overseas with The Ryder Cup. It has been a lot of fun to be able to offer a one-of-a-kind curated experience for fans attending these events."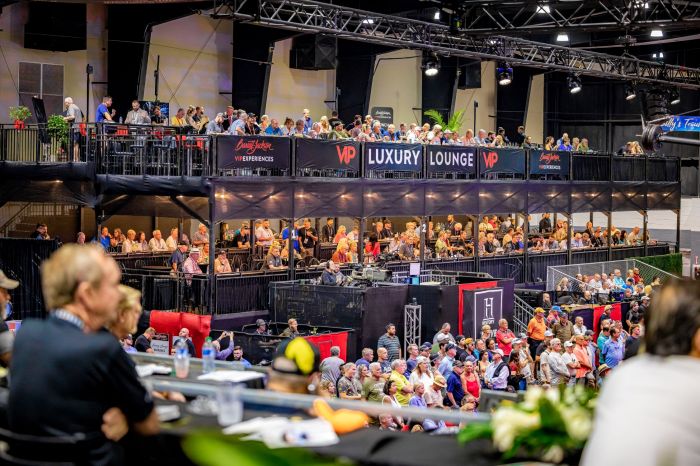 Courtesy of Alive Coverage for On Location
Christina Albee, vice president of distinctive events for On Location, believes it's their standard of excellence that sets them apart.
"If you are hosting a big event, we ensure consumers have an amazing, elevated experience at that event," she said. "From purchase to memory, we want to be sure they have an excellent journey. We don't just sell tickets; we want it to be a memorable experience."
Courtesy of Alive Coverage for On Location
Albee said the feedback they have received has been nothing short of amazing reviews.
"People who attend Barrett Jackson love cars, so we had a 'Ride Across the Block' opportunity where you get to sit in the car while it goes on stage for auction," she said. "That was a new element we brought to the package in Palm Beach. We wanted to enrich the guest experience. Some people come for a specific car, and there is a lot of bidding going on. It's exciting to attend one of these shows. It really is a thrill ride."
Keep an eye out for their upcoming Las Vegas show being held June 22-24, and New Orleans September 28-30.