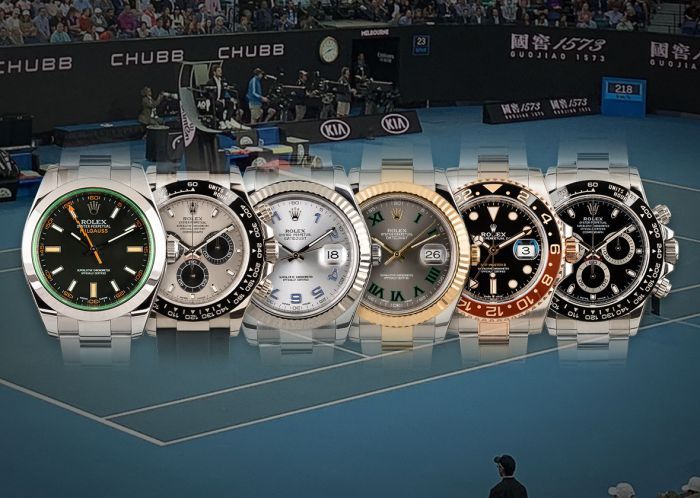 Bob's Watches
The first major tennis tournament of the year is in full swing and some of the fan favorites are still in the hunt for the Norman Brooks Challenge Cup (men's trophy) and Daphne Akhurst Memorial Cup (women's trophy). Players like Serena Williams, Novak Djokovic, Naomi Osaka and Raphael Nadal are all looking to take home the championship.
While all of these players have major endorsement deals, the most common are ones with watch makers, and the one watch maker that has a constant presence is Rolex. For the better part of the last half-century, Rolex has been a constant presence in the sport, and the brand currently sponsors all four Grand Slam tournaments, in addition to some of the world's top professional players.
With Rolex being both a sponsor of the tournament and a number of the competing players, you can guarantee that there will be a number of Rolex watches in attendance, but which models do Rolex's top tennis ambassadors wear?
Bob's Watches, the largest pre-owned Rolex retailer has curated a list of some of tennis's most notable Rolex ambassadors and the Rolex they choose to wear.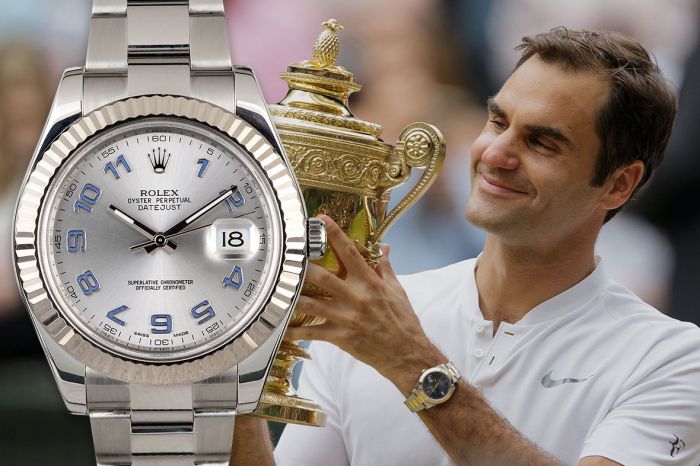 Bob's Watches
Roger Federer – Rolex Datejust
Rolex partnered with Roger back in 2006 in what was one of the largest single endorsements for any professional athlete at the time, a $15 million dollar 10-year contract. A 10-year contract is rare for sports stars even now, especially when you consider how a players career can fluctuate or even fall apart due to injury.
That deal ended in 2016 but the Federer Rolex contract was renewed in 2017, with Roger now earning $8 million per year from Rolex and with no end date reported it looks as though he is now a lifelong ambassador.
Roger Federer's favorite Rolex watch and the one that is most associated with him is the 41mm Rolex Datejust II ref. 116334 fitted with a distinct rhodium-colored dial featuring blue Arabic numerals.
Bob's Watches
Dominic Thiem – Rolex Daytona
Dominic Thiem is currently the #3 player in the world and on his wrist he sports the stainless steel and ceramic Daytona chronograph—a favorite among tennis players it seems. Thiem's ceramic Daytona includes a sleek black dial rather than the crisp white one. Thiem has also been seen wearing a stainless steel Submariner, also with a black dial and black ceramic bezel.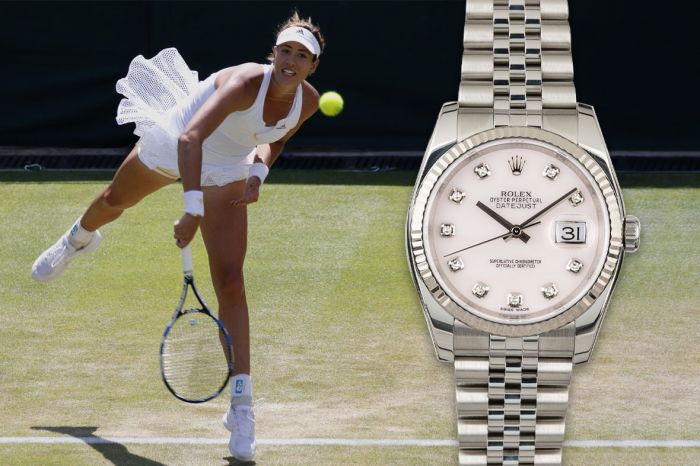 Bob's Watches
Garbiñe Muguruza – Rolex Datejust
Spanish-Venezuelan tennis player Garbiñe Muguruza is the former #1 player in the world and currently #14. It took 16 more years until Muguruza finally started her meteoric rise in 2014. She bought her first Rolex after that successful year to remind herself of her first entry into the Top 20 – and that sacrifices come with a reward. She says of her Rolex Datejust 36: 'When I look at this watch today, I see joy. I see me working hard for what I wanted, I see me being an independent woman. I see myself giving everything I have to catch my dreams'.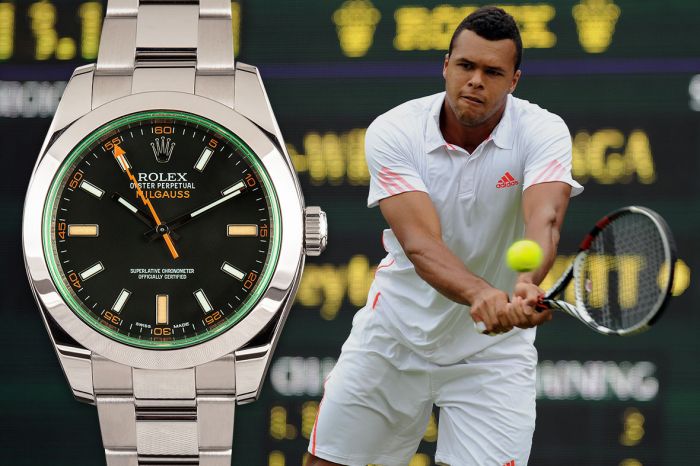 Bob's Watches
Jo-Wilfried Tsonga – Rolex Milgauss
France's #1 tennis player has been spotted wearing a stainless steel and white gold Datejust II, and stainless steel and yellow gold Datejust with a green dial. However, another Rolex watch that seems to be one of Tsonga's favorites is the Milgauss ref. 116400GV.