Plenty of guys are taking steps towards a cleaner, clearer complexion and smoother, suppler skin. Beards and goatees can only hide so much, so skin-perfecting products for men are popping up everywhere. There is far more to masculinity than a five 'clock shadow and overgrown sideburns!
Here are some of the best men's skincare products. Guys, if you've been feeling less-than-fabulous, take your skincare game up a notch and see how great skin can boost your self-esteem and sex appeal. A few minutes per day dedicated to your skin is worth the results.
Looking for more SWAGGER product recommendations and tips? Subscribe to our Newsletter today!
Tips For Choosing Skincare Products
Here are some tips for choosing a great skincare product:
Read the ingredients. Steer clear from harsh chemicals and compounds that can irritate the skin. Aim for natural products that are never tested on animals, and go organic when possible. If you're not sure what's in the product, research online before you make a purchase. Your face is too important to take chances with shady components.
Ask your dermatologist. Your dermatologist can give you advice as to which types of skincare products would be best suited for your skin type and specific concerns. They may even have some samples on hand to test out before you commit.
Talk to your buddies. Believe it or not, some of your friends may already be into skincare, with a collection of go-to goodies that give their skin that special something. If you've got a friend who always looks like he just stepped out of a spa, he's the guy to go to for recommendations and tips.
Give it a chance. Don't expect your product to be a miracle. It may take a few days or even weeks to see the intended results. Follow the directions and be patient. Before you know it, your skin will be a step up from where it was when you started.
Top Skincare Products
Here are SWAGGER Magainze's picks for the best men's skincare products:
Proven Personalized Face Cleanser For Men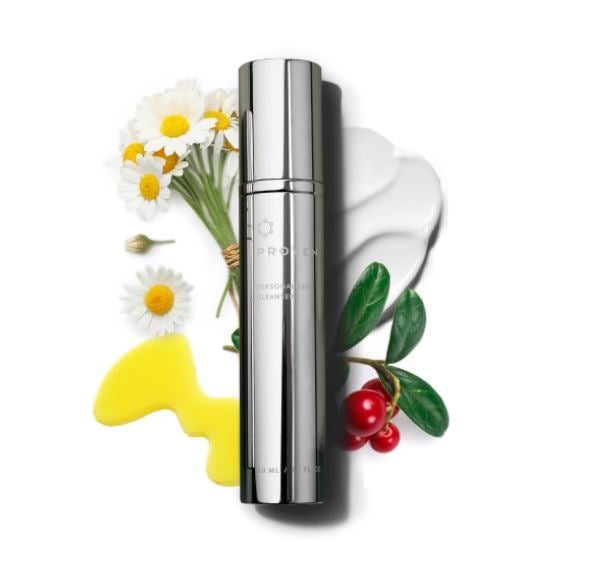 The folks at Proven have devised a smart system to create personalized skincare. Take a quick 3-minute survey on their site and they will recommend the best cleanser based on your responses related to your top skin concerns, the condition of your skin, and so forth. This cleanser is also an exfoliator and toner, making it even more appealing.
The cleanser comes in a sleek container that won't take up too much room. Ingredients like pomegranate extract, ginseng extract, hyaluronic acid, and salicylic acid are carefully combined to improve skin's texture and tone. Proven is proof positive!
Cost: $35.00
Geologie Repairing Night Cream
Use your sleep time wisely by repairing your skin while you snore. Geologie Repairing Night Cream is a multi-beneficial formula that tackles common skin concerns like fine lines and wrinkles, puffiness, and acne. Retinol is the big draw in this product, especially for its amazing anti-aging qualities. Before you hit the sack, smooth some repairing night cream on your face and wake up looking like Prince Charming.
Cost: $65.00
Brickell Balancing Toner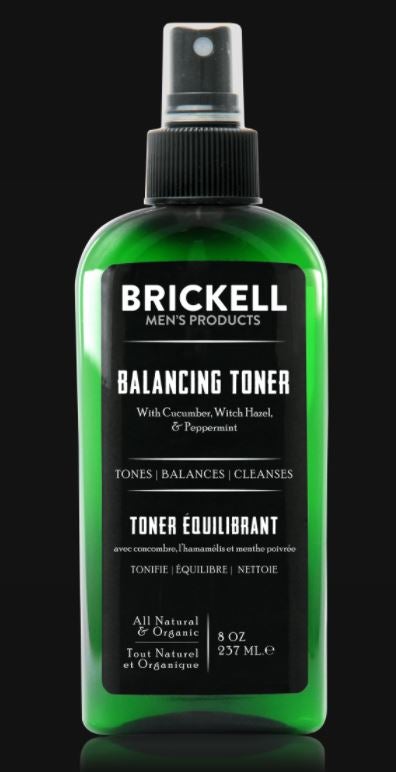 Feel cool and fresh with a swipe of Brickell Balancing Toner over clean skin. With this toner, you'll see a big difference in the quality of your skin, including less inflammation and oiliness. Guys with acne can find some relief as the antiseptic formula tackles clogged pores and irritated skin. See your pores shrink and experience overall hydration. Ingredients including cucumber and aloe vera are gentle on the skin, and the alcohol-free, organic blend smells like peppermint. The spray bottle design is convenient for preventing spills and splashes.
Cost: $15.00
Andalou Men Comforting Face Lotion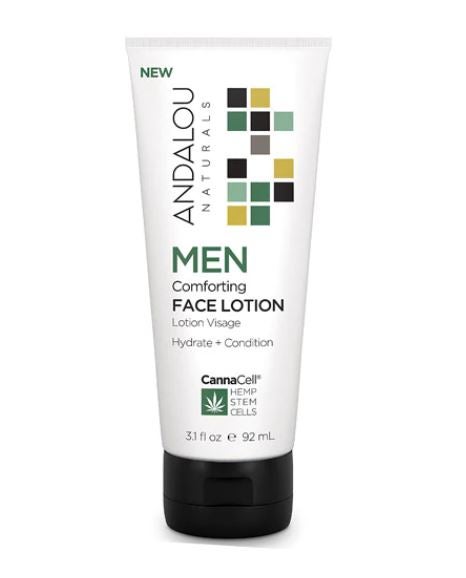 Keep your skin soft and smooth, free of dry patches, and less tight and tender with Andalou Men Comforting Face Lotion. It will keep your fine lines at bay and give you the hydrated skin you've been craving. The 100% vegan formula is non-GMO and natural. Made with aloe, hemp, and other skin-improving ingredients, this lightweight face lotion is nourishing and soothing. Use day or night without a greasy or sticky feel, and your skin will soak it in.
Cost: $13.99
Tame The Beast Anti-Aging Face Serum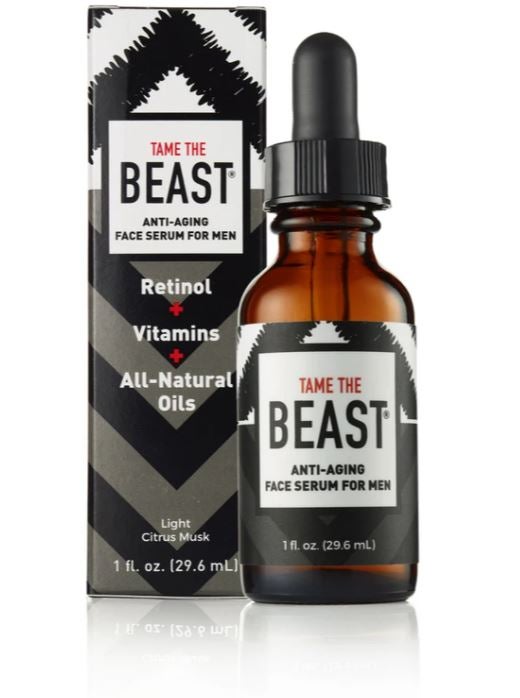 The name of this product is catchy, but what's inside the dropper bottle is the real draw. Tame The Beast Anti-Aging Face Serum is made with all-natural essential oils, retinol, vitamins, and more to brighten skin's tone, improve texture, and fight those pesky wrinkles. The light citrus musk scent is alluring, and a little goes a long way, so it'll last for months. If you've got a beast to tame, get on it with an anti-aging agenda.
Cost: $23.20
Dudes Yoga Clean Skincare For Men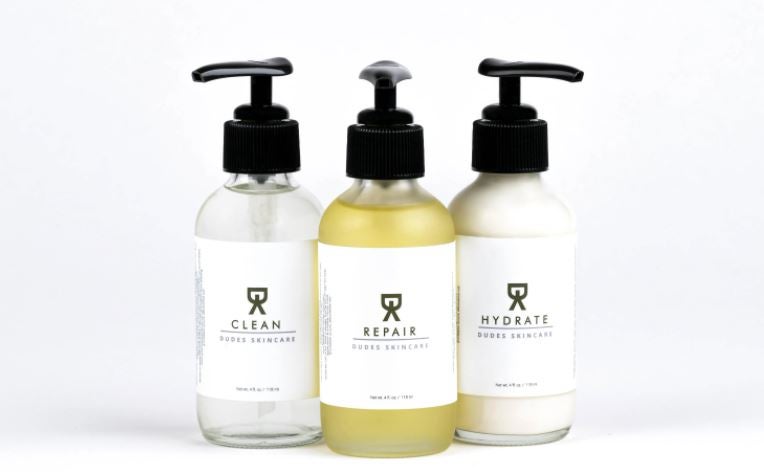 Foamy and fresh, Dudes Yoga Clean Skincare For Men is a gentle cleaner that not only gets your face feeling like new, but repairs and hydrates it along the way. The all-natural formula is made with lavender, witch hazel, and geranium to keep the skin well-balanced and breakout-free. This one comes as a trio, with a cleanser, repair serum that protects the skin from environmental elements, and softening hydration lotion that gives dry skin something to drink up. The trio is all you'll need for a well-rounded skincare routine.
Cost: $104.00
Purchase High-Quality Skincare Products
Guys, your skin is what people see first. Put your best face forward with a complexion that's worth a double-take. The ladies aren't the only ones who deserve stunning skin. Ditch the drying bar soap and treat your face to something finer. You'll look in the mirror wondering who that good-looking guy is staring back at you!
Subscribe For the Latest Trends
If you'd like to keep up with all of the latest trends for men, subscribe to SWAGGER Magazine today. Our team researches the best and most popular products that are sure to enhance any man's life. Trust us, you don't want to miss more of our top recommendations and tips!