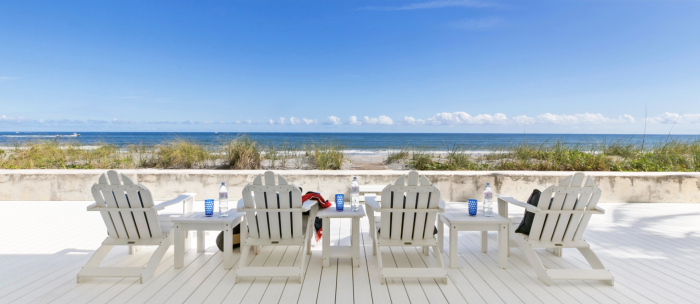 Photo by Robert Stevens
Golf legend Greg Norman's 'Tranquility' estate/compound on the prestigious barrier island of Jupiter Island is listed for $59.9 million. According to Jill Hertzberg of Coldwell Banker Realty's The Jills Zeder Group, "The owners of this mesmerizing estate never have to leave. It offers all of the amenities of a high-end resort: tennis, pool, beach, gym, boating, gourmet kitchen, office, it's all here in one place."
'Tranquility' offers more than 31,800 sq.ft. of living space. "It's the perfect name for this home, because that's the exact feeling that comes over you the second you walk in and take in everything this magnificent compound has to offer." Hertzberg said. She and Michelle Thomson of Coldwell Banker Realty's The Tomson Team represent the sellers. 
The former No. 1 golfer in the world and Australian entrepreneur purchased the property in 1991. He and his wife, Kristen (Kiki) a hospitality design expert and founder of Norman Design Group, completely rebuilt the estate's Main House, Pool House and Beach House, and extensively renovated all the other areas of the estate.
Situated on 172 feet of Atlantic oceanfront water footage, and 370 feet of Intercoastal waterway footage, the property features an array of luxe buildings, situated on a sprawling 8.31 acre lot.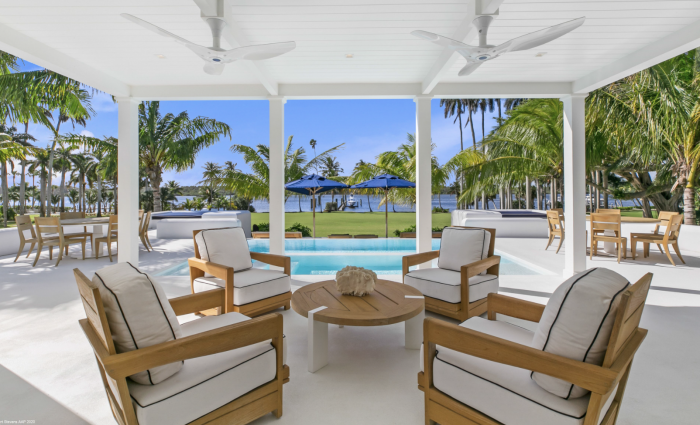 Photo by Robert Stevens
According to Greg Norman, "Having grown up on the beach in the tropics of Australia, my search for the perfect property in America allowing me to incorporate all my needs from privacy, security, a dock for my boats, and direct access to the beach and ocean, was fulfilled when I was blessed enough to come across 'Tranquility' in 1991. It is a blend of everything I love in life and about life. The new build of our main house under the passionate and professional eye of my wife Kiki only elevated the entire property to another level.'
Kiki Norman has 20 years of hospitality design experience, having previously worked for Hirsch-Bedner Associates designing 5-star hotels around the world. Her inspiration for design is from all the destinations she has lived in and visited, including Asia, Australia, Switzerland, Germany, England, Thailand, and the U.S. Her world travels are reflected in her design approach, "I designed this estate to feel luxurious, but also warm and casual," said Kiki Norman. "It caters to our 'barefoot elegance' lifestyle. My vision was to create a sanctuary, a place that felt like we are on a permanent holiday; and a gathering place for friends and family. The basis of my design was an open floor plan, maximizing light and coastal views from every aspect."
Working with French architect Christian Liaigre was also a major influence on the design elements, colors, and finishes, including lacquered teak and high-gloss Sapele mahogany; wire-brushed, custom oak floors; and solid brass Waterworks and Drummonds plumbing fixtures.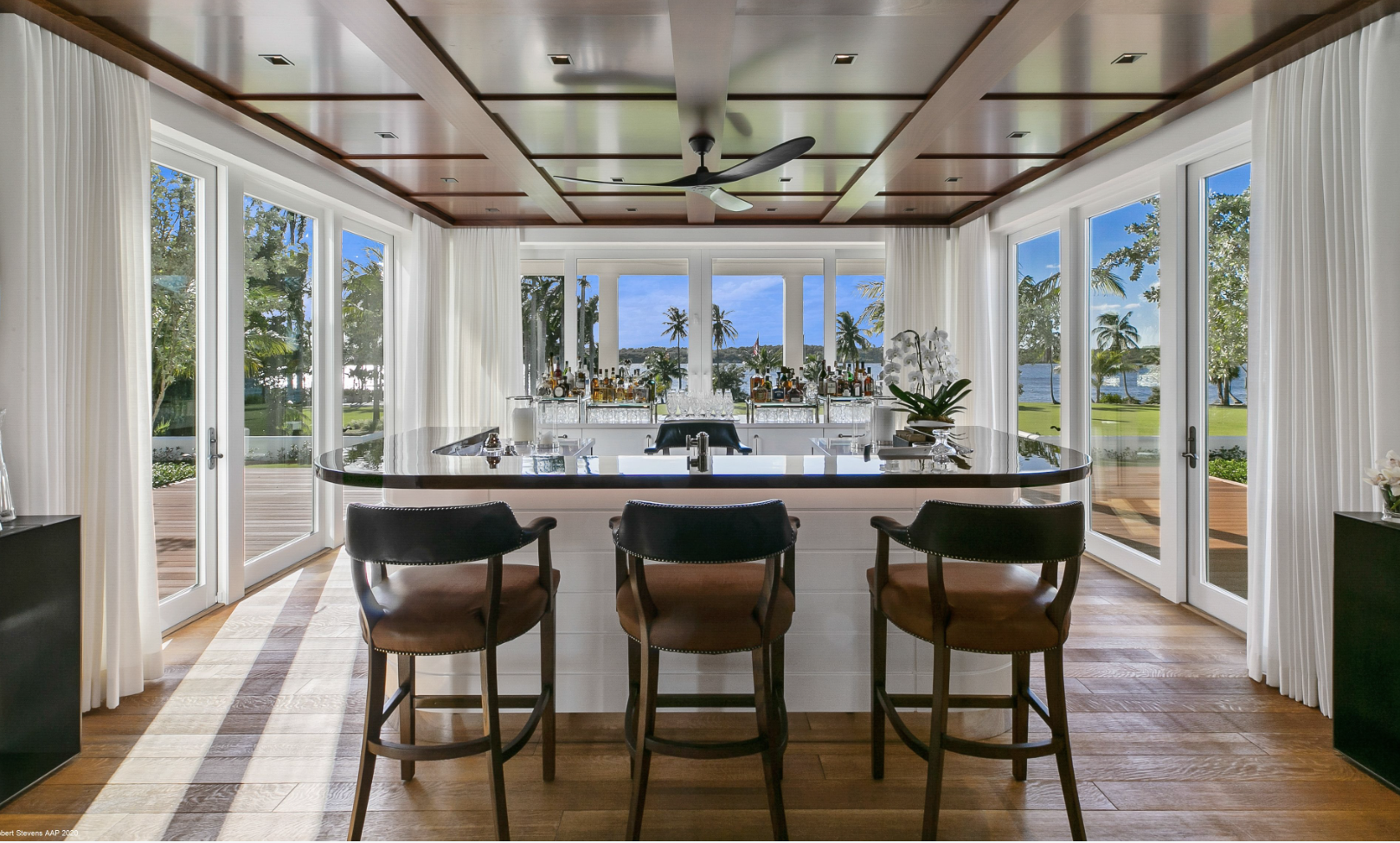 Photo by Robert Stevens
The completely new Main House first floor boasts two bedrooms; a trophy room and gallery; formal dining room and family room; SieMatic kitchen, kitchen lounge, butler's pantry, elevator; living room with fireplace; main bar with wraparound overlooking floor-to-ceiling glass doors.
The Main House's second floor is strictly the principal quarters, which features a private foyer leading from the stairs and large outdoor terrace. There is a den, his own and her own office, his own and her own bathroom, his own and her own closet, her accessory room, elevator, large sitting room, luggage room, linen room, powder room, and kitchenette.
'Tranquility' offers a highly unique feature in South Florida – two basements totaling 5,792 sq.ft. The area is complete with one bathroom and two half-bathroom, and an entertainment area featuring a movie theater and two 1,900-bottle wine cellars.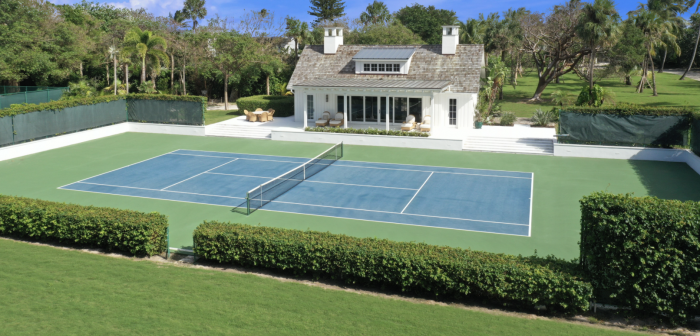 Photo by Robert Stevens
The Tennis House offers a covered outdoor space, two bathrooms, bar, and indoor and equipment room, next to the sunken US Open-sized tennis court.
Measuring 1,694 square feet, the Boat House can accommodate kayaks, paddleboards, jet skis, fishing rods, and equipment for a yacht. The Intracoastal dockage is suitable for a 150-foot yacht. 
Other areas on the compound include a 6,072 sq.ft. Carriage House with a full size gym and cardio room, full kitchen, three bedrooms, three full bathrooms and one half-bathroom. It features garage space for six more vehicles and there is a guest or employee parking lot for an additional 30 cars.

Photo by Robert Stevens
Located on the Atlantic Ocean, the new 3,287 sq.ft. elevated Beach House boasts panoramic water views, as well as two bedrooms, two bathrooms, a full kitchen, and dining and living room. The beach is technically private because there is no public parking within 4 miles on both sides of the beach house.
Remote and set back, the estate is a true escape, spanning from the ocean's edge to the Intracoastal with access to both. It beckons the utmost in privacy on exclusive Jupiter Island, an incorporated town with its own active police force, first responders, and security.
For more information and to contact The Jills Zeder Group, visit JillsZeder.com.