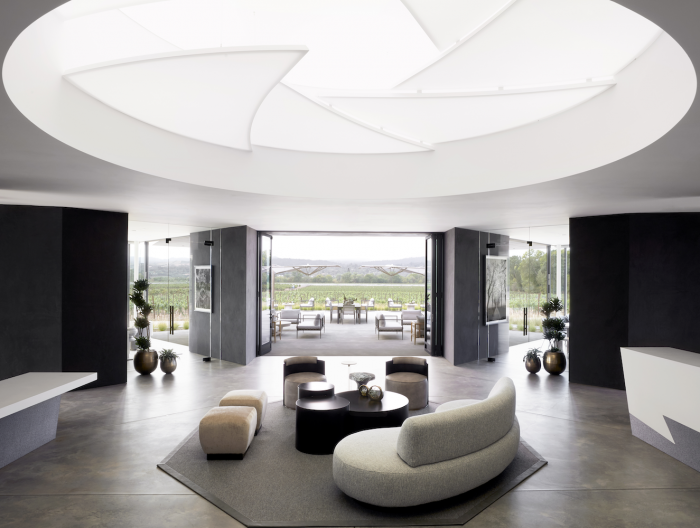 Aperture Cellars Estate tasting venue
When Montage Healdsburg sought a vintner partner to oversee its onsite vineyard, the spectacular new resort selected Jesse Katz of Aperture Cellars. Surrounded by more than 425 Sonoma County wineries, the resort and its management team could have chosen to work with any number of influential winemakers, each of whom would have jumped at the chance to collaborate with the region's largest hospitality venue. But it was Katz, a Wine Enthusiast '40 Under 40 Tastemaker,' who got the nod.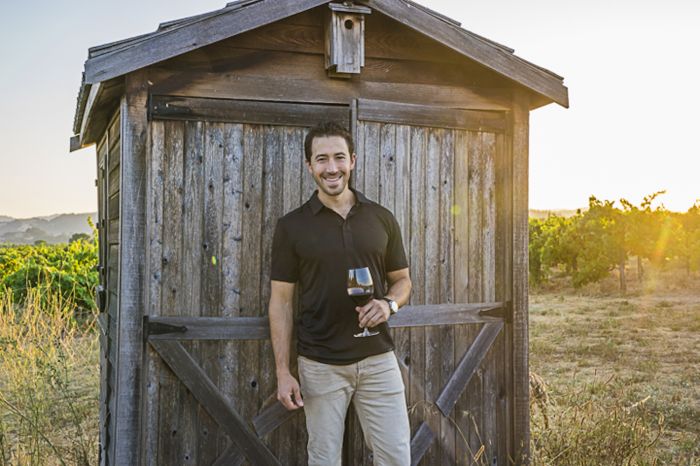 Jesse Katz
"From successes at storied wineries such as Screaming Eagle, to being a former 'Forbes 30 Under 30' honoree, Jesse has accomplished so much in the wine world for someone so young," said Allen Highfield, General Manager, Montage Healdsburg. "We knew he would continue a strong upwards trajectory in his career and with our resort being new to the region, we were looking for a partner with whom to grow." 
Katz oversees Montage Healdsburg's 15.5 acres of malbec, merlot, petite verdot, cabernet franc, cabernet sauvignon, and sauvignon blanc grapes, from which he'll create wines in a year or two for the resort's use. But Katz's winemaking artistry can be sampled presently just a few miles from Montage Healdsburg at his Aperture Cellars Estate, where a fantastic new visitor center serves as a stellar showcase for his award-winning Bordeaux blends.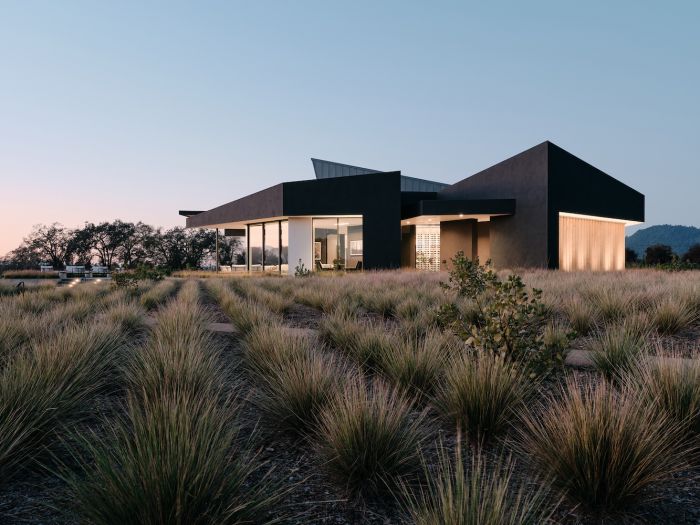 Aperture Cellars Estate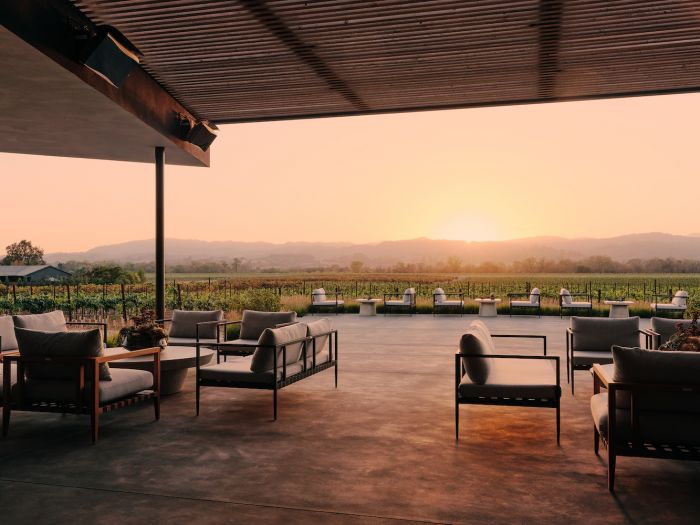 The newly designed, state-of-the-art winery and tasting venue features floor to ceiling windows, allowing expansive views of the northern Russian River Valley. Seating is poised westward, overlooking Aperture's 40-acre estate vineyard, first planted in 1912. The indoor scenery is equally enthralling; Signum Architecture's lead designer Juancarlos Fernandez took his cues from the winery's name, creating a focal point, stylized aperture-esque skylight. Floating walls can be rearranged to create large and small private tasting spaces. The interior features a fine art collection by Katz's father, acclaimed photographer Andy Katz, whose atmospheric photos also grace every bottle of Aperture Cellars wine. 
It was the early influence of his father's storied career that set Katz on his winemaking path. As a youth, Katz traveled the world with his dad as the celebrated photographer captured images of the most renowned vineyards in the world. 
"I was exposed early on to great food, great wine, and life on the vineyard," said Katz, whose experience spans 15 harvests at wineries around the world, including Pétrus in Bordeaux, and Viña Cobos and Bodega Noemia in Argentina. He served on the winemaking teams at Napa Valley's Screaming Eagle Winery and Robert Foley Winery, and in 2010, was the youngest-hired head winemaker in the US at Lancaster Estate where, during his five-year tenure, he orchestrated the building of the new Roth winery, production facility, and tasting room, grew the Roth line more than 800%, received 90+ Robert Parker, Jr. scores, and garnered Lancaster Estate's inclusion on the list of Wine Spectator's Top 100 Wines.
At Aperture, recently named a 'Rising Star' winery by Wine Spectator, Katz focuses on selecting unique cooler sites in California where he pairs diverse farming and precise winemaking techniques to extract the deepest expression of each vineyard. His silky flagship Aperture 2018 Cabernet Sauvignon features cabernet fruit from four mineral-rich, volcanic soil sites within Sonoma County's celebrated Alexander Valley and is crafted with delicate inclusions of merlot, malbec, and petit verdot. His Aperture 2018 Bordeaux Red Blend is an elegant and complex balance of 1/3 cabernet sauvignon, 1/3 merlot, and a remaining blend of malbec, cabernet franc, and petit verdot. His Aperture 2019 Barrel-Fermented Sauvignon Blanc is a uniquely decadent expression of the varietal, due in part to its six months of aging in French oak barrels.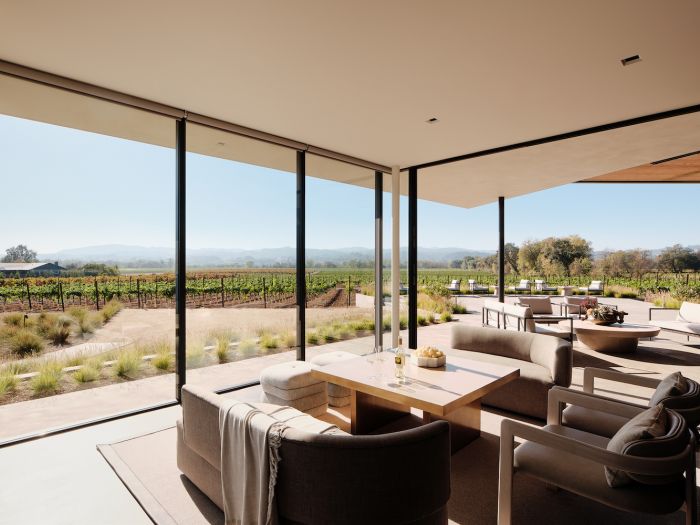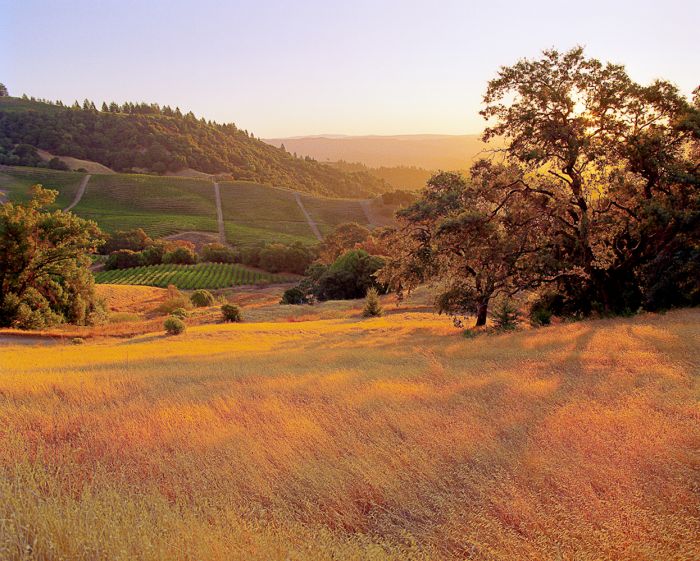 The Aperture Cellars vineyard
Each can be enjoyed via a selection of tasting opportunities: The Soil Series Experience introduces the breadth of the Aperture Bordeaux-inspired portfolio. The Site Series Experience offers a rare opportunity to deep dive into the winery's curated vineyards, and showcases the site-driven wines from their single vineyard locations. The Private Tasting Experience is an in-depth showcasing of the most sought-after Aperture Cellars wines, led by a dedicated Aperture Cellars hospitality ambassador. Tastings will soon be enhanced by a variety of food offerings, for which Katz is partnering with some of Healdsburg's most celebrated purveyors such as Kyle Connaughton of SingleThread, Dustin Valette of Valette, and Peter Seghesio of Journeyman Meat Co.
Katz's humble nature belies the accolades bestowed upon him. He has been featured by multiple media outlets, including Wine and Spirits, Food and Wine, Drinks Business, Wine Advocate, Worth, Bloomberg, Huffington Post, ABC, CBS, CNN, and MSNBC, People, ESPN, Forbes, People, AOL, Esquire, and others. He has produced custom wines for athletes and celebrities like Tony Hawk, Superbowl MVP Von Miller, and Shep Gordon. He even made Justin Timberlake and Jessica Biel's wedding wine. Yet Katz remains fiercely dedicated to his Sonoma County community, regularly donating time and product to charitable causes and events. And he is earnestly committed to the farmers, chefs, artists, and entrepreneurs that make Sonoma County a globally recognized food and wine destination, making it exceedingly easy to see why, out of all the winemaker's in the area, Montage Healdsburg chose him.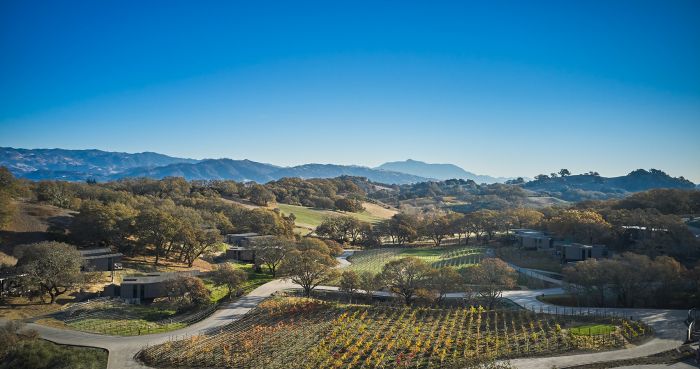 Montage Healdsburg property and vineyard. Photo courtesy of Montage Healdsburg
"There are certainly many incredible vintners here in Sonoma County, a 'problem' that comes with being blessed to live and work in this area," added Montage Healdsburg's Highfield. "We began initial talks with Jesse five years ago and could not resist his youthful energy; the opportunity to work alongside someone of Jesse's caliber and pedigree was and is exciting."
Photos courtesy of Aperture Cellars unless otherwise noted