Thinning hair is a common conundrum for many men. The thickness, texture, and quality of their hair from decades past is gone, with little new growth to make up for it. Lots of guys expect to experience thinning hair as they age, but when reality sets in, it can be a real downer.
These eight shampoos for men with thinning hair promise to restore a fuller head of hair. Something as simple as using shampoo is a breeze, giving men a shot at improved self-esteem and a spike in sex appeal. Here's the scoop on shampoos that give the gift of growth!
Looking for more SWAGGER product recommendations and tips? Subscribe to our Newsletter today!
Tips For Hair-Growth Shampoo
When searching for and using hair-growth shampoo, keep the following tips in mind:
Research different brands. This will give you an idea of the effectiveness of different brands and the most popular options.
Look for the right ingredients. Shampoo for thinning hair must contain DHT-blocking ingredients and ingredients that promote growth, such as ketoconazole, salicylic acid, biotin, and niacin.
Apply for three weeks. Don't throw in the towel after a use or two. Be patient and keep at it. If you don't see results after three to four weeks, you can then consider changing your product.
SWAGGER'S Top Picks for Hair-Growth Shampoo
Here are our top shampoo recommendations for men with thinning hair:
DrFormulas Sulfate-Free DHT Blocker Shampoo – 16 oz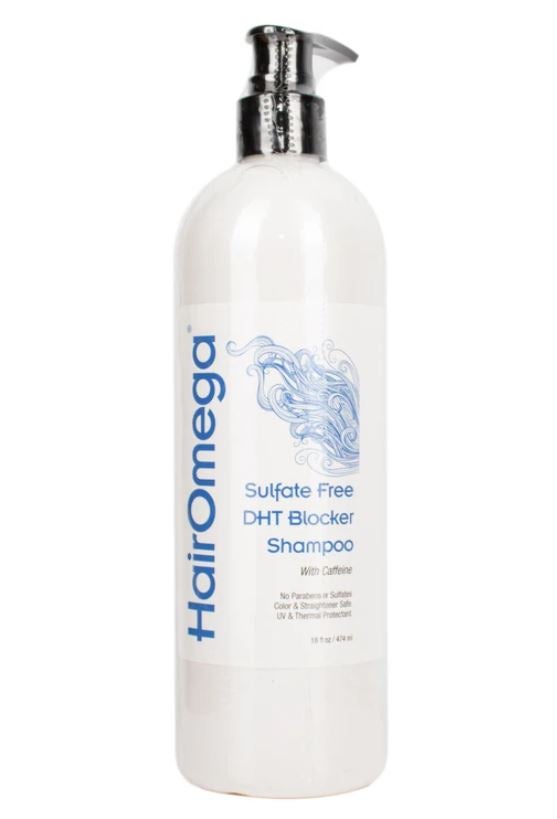 DHT (dihydrotestosterone) is the male sex hormone that is linked to male pattern baldness. Blocking this hormone from affecting the hair is the aim of many of these shampoos. DrFormulas Sulfate–Free DHT Blocker Shampoo is a biotin-based formula that helps hair grow thicker and healthier. Natural ingredients like lavender oil, jojoba oil, saw palmetto, peppermint oil, caffeine, and Moroccan argan oil give hair improved texture, lots of shine, and feel-good fullness, with reduced breakage and split ends.
Cost: $20.41
Hair Restoration Laboratories, LLC Hair Restore Shampoo – 16 oz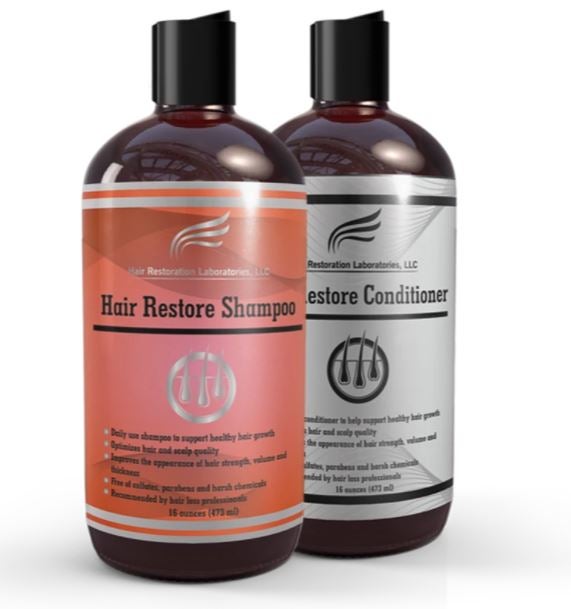 Chemical-free and combined with their hair-restoring conditioner, Hair Restoration Laboratories, LLC's Hair Restore Shampoo is scientifically formulated to reverse hair loss. The shampoo reduces shedding and breakage while nourishing the scalp and hair follicles with each use. There are no sulfates, silicone, or other potentially harmful ingredients to worry about in this formula. The next time you hop in the shower, give your hair a helping hand with Hair Restore Shampoo.
Cost: $44.95 (for shampoo/conditioner bundle – each 16 oz)
Revita High-Performance Hair Stimulating Shampoo – 205 ML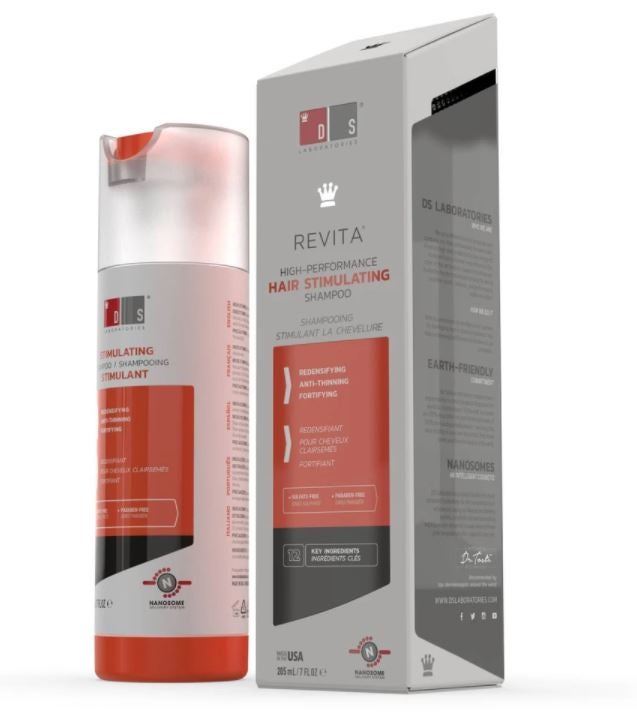 To effectively restore hair growth, scalp and follicular stimulation play a critical role. Revita High-Performance Hair Stimulating Shampoo hits at the source, using the powers of caffeine and biotin to rev up the regrowth. From the very first use, a difference can be detected, with more thickness and strength per strand over time. Fuller hair is on the horizon with Revita's remarkable recovery.
Cost: $32.00
Veta Hair Stimulating Shampoo – 27 oz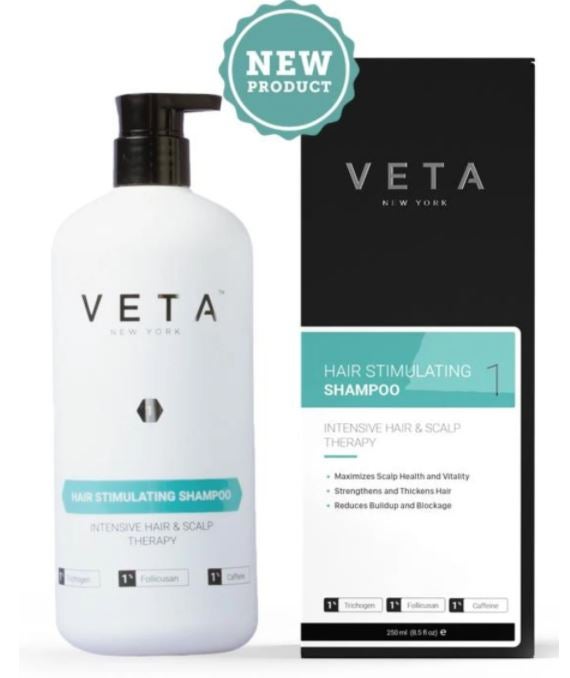 Veta Hair Stimulating Shampoo is all about treating the scalp, creating a healthy environment for hair to regrow with strength. As it seeps in, the sulfate- and paraben-free formula—which is never tested on animals—gives hair follicles the signal to step up their growth game. A combination of ingredients, including trichogen, caffeine, and various oils work their magic to make a balding head again bountiful. With scalp circulation improved, hair has a more fertile foundation to flourish.
Cost: $89.00
Keranique Scalp Stimulating Shampoo For Thinning Hair- 8 oz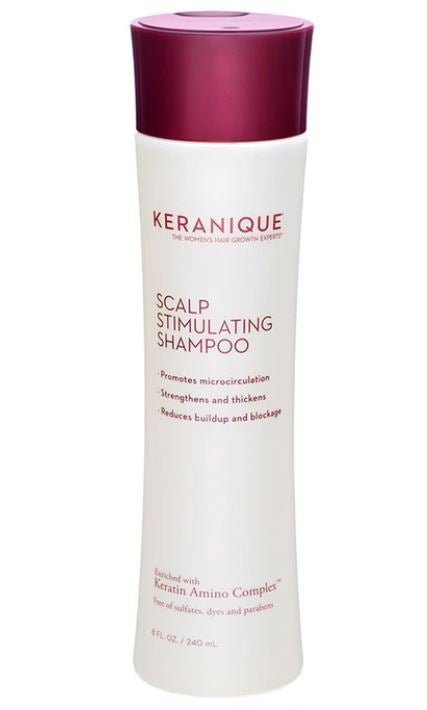 Fine hair needs fine-tuning, and Keranique Scalp Stimulating Shampoo For Thinning Hair has been formulated to fight follicle fatigue. The dye-free formula, also free of parabens and sulfates, is super gentle and deep cleaning, while getting to the root of the problem. See improvement with regular use, including less breakage, build-up removal, stronger strands, and frizz-free shine. Keratin, Vitamin B5, and other fortifiers work together to increase thickness and volume.
Cost: $19.95
Dr.FORHAIR Folligen Shampoo – 500 ML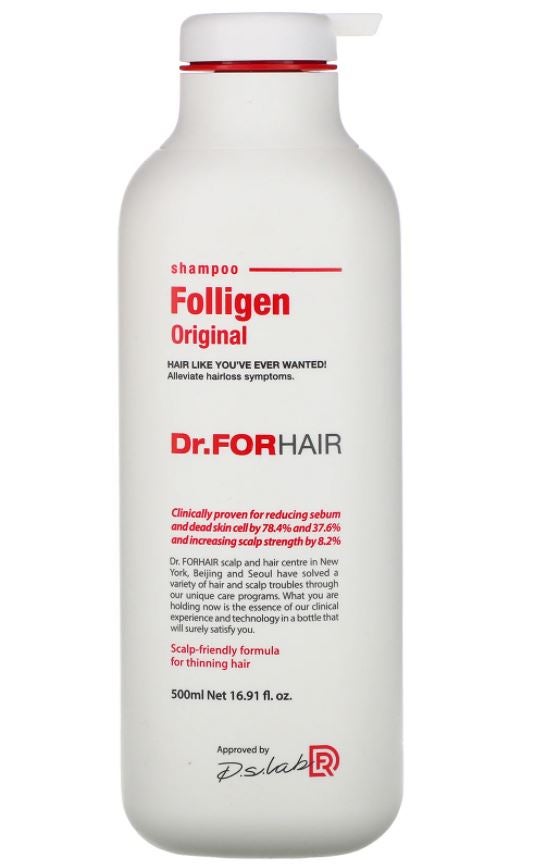 Infused with Vitamin B for scalp and hair restoration, Dr.FORHAIR Folligen Shampoo makes hair thicker and helps it grow. The no-sulfate formula clears the pores in the scalp for maximum efficiency, preventing hair loss while adding shine and manageability. Allow for about 4 weeks to see evidence that this shampoo is working, plus notice the benefits of less flakes and oil coming from the scalp. Dr.FORHAIR is the one doctor you'll actually be glad to see every day!
Cost: $32.00
Brickell Men's Products Daily Strengthening Shampoo – 8 oz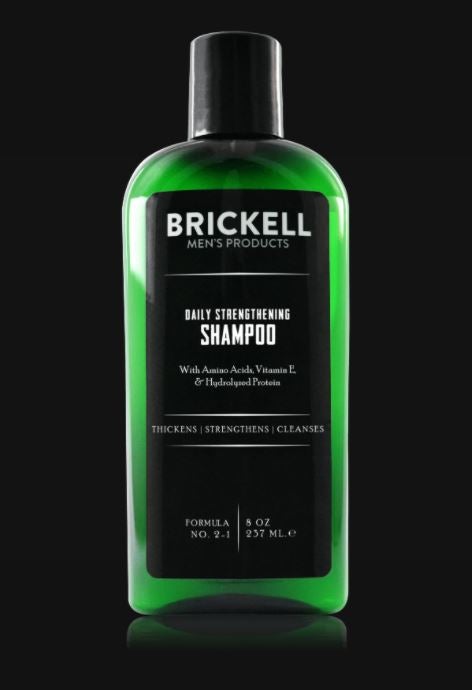 Organic is always a plus, and Brickell Men's Products Daily Strengthening Shampoo is a natural way to get the fuller hair you desire. Tea tree oil and peppermint infuse the scalp, getting it primed for follicle stimulation. Packed with Vitamin E and amino acids, the shampoo minimizes hair loss. Brickell Men's Products Daily Strengthening Shampoo also reduces unsightly dandruff while adding plenty of shine to the hair with every wash. See thicker hair swiftly, with the feel-good aspect of an organic blend.
Cost: $20.00
Jack Black True Volume Thickening Shampoo – 16 oz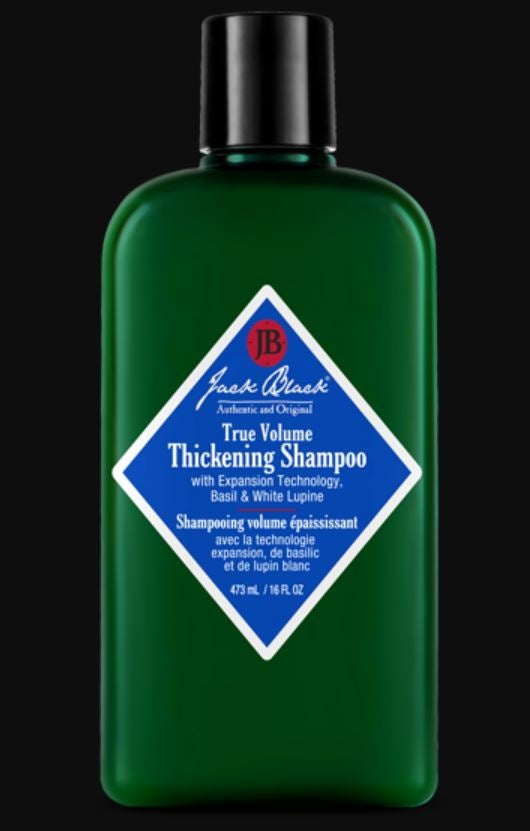 A special thickening formula – "Expansion Technology" – makes Jack Black True Volume Thickening Shampoo an option that beefs up each strand for noticeable strength. It's made with creatine, wheat protein, and white lupine protein for unmatched strength. Plus, natural oils, botanicals, and extracts ensure hair remains soft and lush. When you use this product, your hair gets nourished and squeaky clean, giving you a big boost towards thickness.
Cost: $28.00
Growth is Possible!
Remember, your thinning hair does not have to be a permanent situation. Fight nature and get a head of hair you will be proud to show off. Insecure moments and lack of confidence are not doing you any favors, so suds up with hair-restoring shampoo. When you look in the mirror, you will see the man you were meant to be, with a hearty head of hair your special someone can't wait to run their fingers through!
Subscribe For the Latest Trends
If you'd like to keep up with all of the latest trends for men, subscribe to SWAGGER Magazine today. Our team researches the best and most popular products that are sure to enhance any man's life. Trust us, you won't want to miss more of our top recommendations and tips!