Silky smooth skin isn't just for the ladies. Guys also deserve to rid themselves of itchy, dry skin that is unflattering, and frankly, unsexy. Moisturizing ought to be part of every man's daily routine, as either a maintenance mechanism or for intense healing. If you're looking for a place to start, these are eight of the best body lotions for men. Adding this one extra step to your morning routine will provide you with outstanding, long-lasting results!
Jack Black Cool Moisture Body Lotion, 16 oz.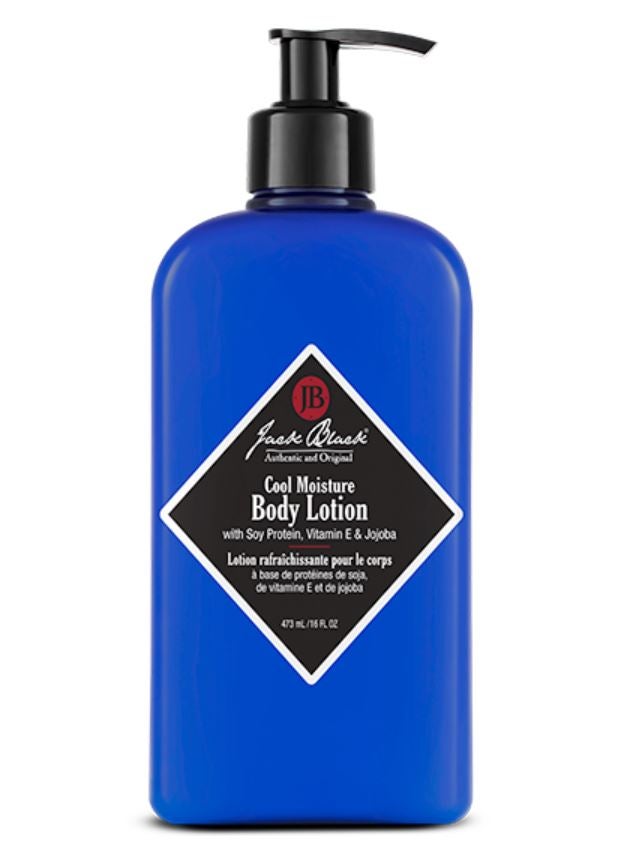 For everyday wear, a lightweight body lotion is ever so comfortable, as it seeps into the skin without any greasy or heavy residue left behind. Jack Black Cool Moisture Body Lotion is absorbed into the skin in a snap and nourishes deeply with healthy ingredients like Vitamin E, soy protein, and macadamia nut oil. It also cools the skin's surface with a hint of fresh menthol. The light, subtle scent won't overpower, and the softening effects set in immediately.
Cost: $30.00
Bath & Body Works Freshwater Body Lotion, 8 oz.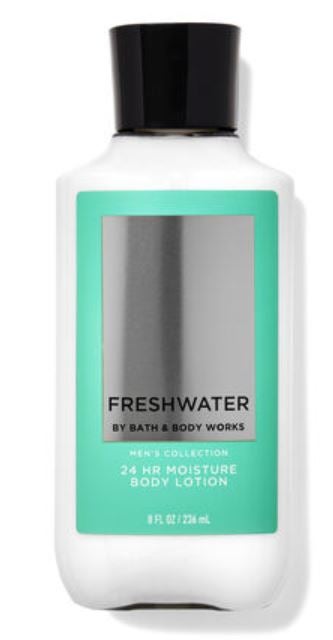 Inexpensive and all-around appealing, Freshwater Body Lotion from Bath & Body Works is a toiletry staple that no man should go without. The fresh scents of oakmoss, bergamot, and mountain spring water come together in this lotion for an allover, easygoing freshness that lasts from morning 'till night. Made with soothing shea butter, rich coconut oil, and nourishing Vitamin E, this lightweight body lotion is great for the skin as it soaks in and leaves you feeling incredibly smooth. Bath & Body Works has been around for a long time, so you can trust the brand to deliver what they promise.
Cost: $4.95
Outlaw Lust In The Dust Lotion, 8 oz.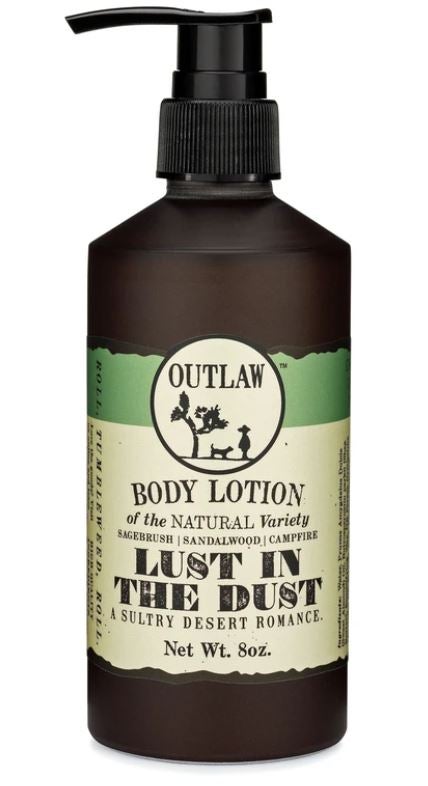 The catchy name of this body lotion is catchy, but what's inside the bottle is the real deal. Outlaw Lust In The Dust body lotion is a vegan product with the masculine scents of sandalwood and sage to evoke that campfire essence of the great outdoors. As rugged as you may be, having nice skin is universally appealing. Rub some of this body lotion on before embarking on the day, and let your inner outlaw out to play. After showering, give yourself the treat of another layer of Lust In The Dust body lotion to lock in moisture.
Cost: $15.00
Bevel Body Lotion, 16 oz.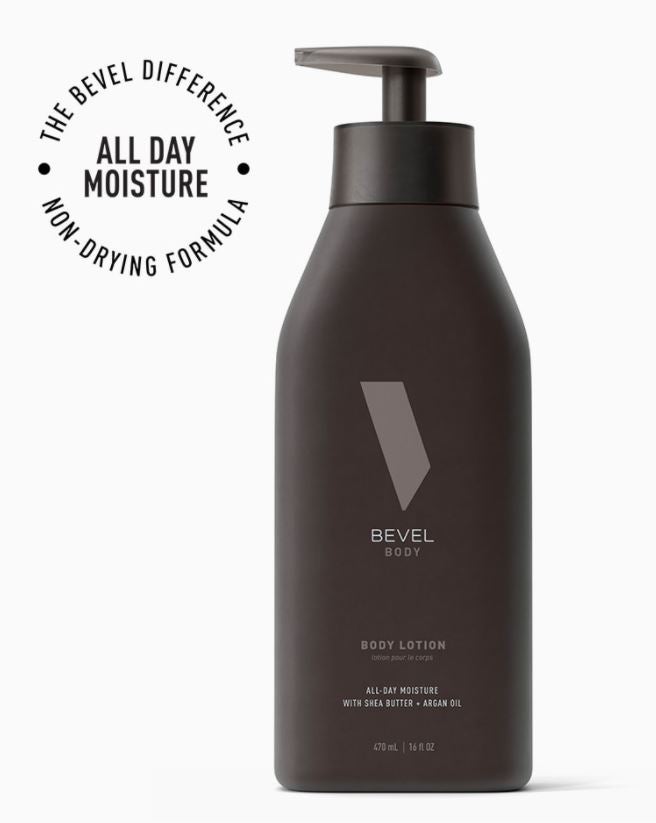 For manly moisture that is not tacky or heavy, the lightweight formula from Bevel is a go-to for guys who don't want to fuss with much pampering in the morning. Smooth the body lotion thoroughly onto the skin and let the Vitamins B3 and E get to work. The mild scent won't overwhelm you, yet it gives you a feel-good freshness that lasts all day.
Cost: $9.95
Vaseline Men Healing Moisture Extra Strength Lotion, 10 oz.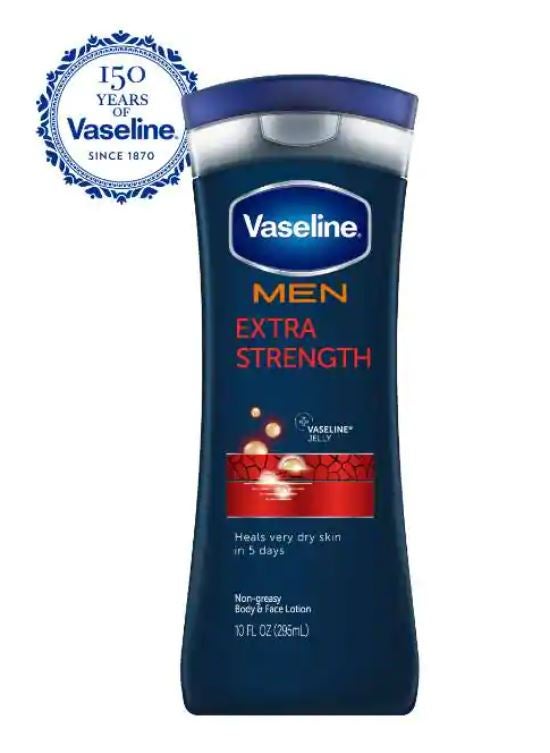 There's no need for all the bells and whistles from some high-end brand when the trusted name of Vaseline has the power to turn dry skin to dewy in just one use. This intense extra strength formula is made for healing, yet it's not heavy or sticky to the touch. Use daily for maximum results, and that scary, scaly skin will be as smooth as silk in no time. Even dry winter skin can be saved, thanks to the good folks at Vaseline.
Cost: $3.49
Gold Bond Ultimate Hydrating Lotion, 20 oz.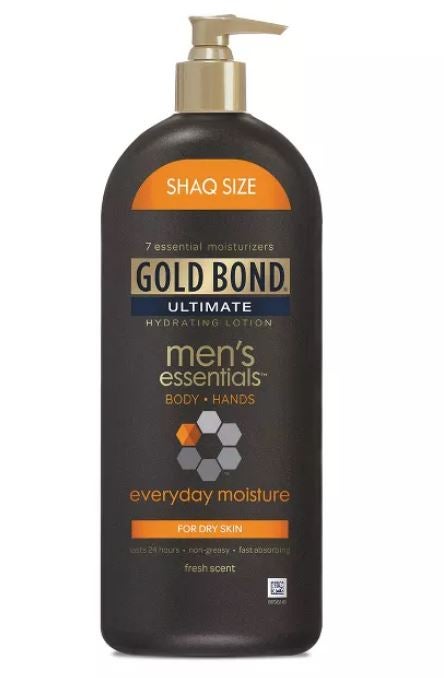 Gold Bond is known for their super-strong body lotions, created for majorly dry skin that can't be healed with any old formula. This ultimate blend is made to tackle even the roughest skin, leaving it remarkably soft and smooth. Seven strong moisturizing components are blended to create the best combo for cracked or scaly skin, with a nice aroma that is perfectly pleasant for any occasion. Four vitamins seep deep into the skin for a healthy boost to help the softness stick around for the long haul.
Cost: $9.97
Byredo Black Saffron Body Lotion, 7.6 oz.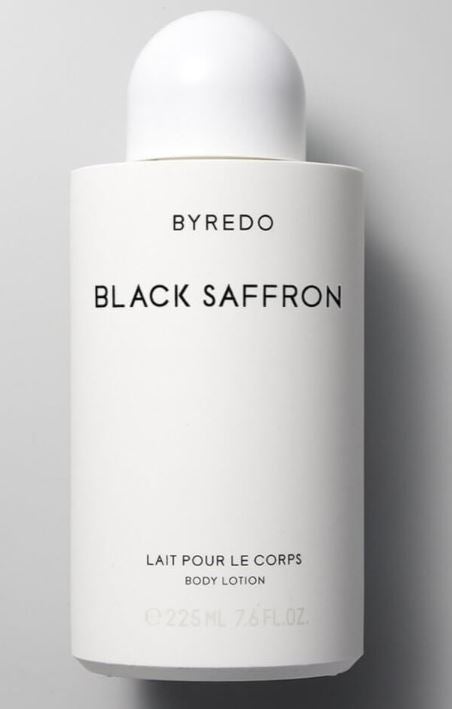 For something a bit more indulgent, Bydredo Black Saffron is worth the price tag for practically perfect skin. The scent alone is reason enough to treat yourself, with a beautiful blend of saffron, juniper berries, black violet, and other natural elements. With soothing shea butter among the ingredients, this exotic body lotion leaves the skin wonderfully smooth, without that greasy feel that can ruin your look. Pair Black Saffron body lotion with their Black Saffron body wash for all-day freshness times two.
Cost: $65.00
Brickell Deep Moisture Body Lotion, 8 oz.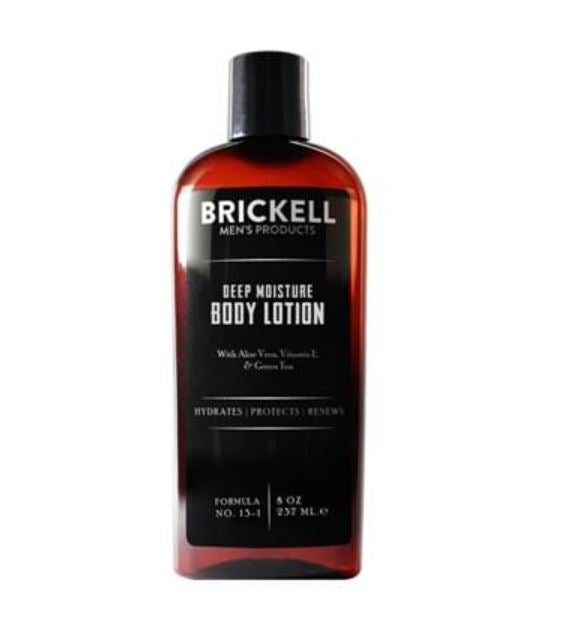 All-natural and super hydrating, Brickell Deep Moisture Body Lotion works its magic on dry, flaky skin, revealing a softness underneath that is well protected all day. Made with shea butter, jojoba, and Vitamin E, this body lotion absorbs quickly and penetrates deep into each layer of skin. Brickell Deep Moisture Body Lotion comes in an unscented variety as well as a scented formula that smells like lemongrass, peppermint, and eucalyptus. It is remarkably rejuvenating. No grease…only the good stuff from Brickell.
Cost: $25.00
Final Thoughts
Stick with the healthy habit of hydrating your skin, and you'll remain soft year-round. No matter how rough you start, daily body lotion use will turn your skin from scary to soft. Use one of these best body lotions for men, or mix and match them if you're excited about more than a single option. Keep it smooth, fellas!
Subscribe For the Latest Trends
If you'd like to keep up with all of the latest trends for men, subscribe to SWAGGER Magazine today. Our team researches the best and most popular products that are sure to enhance any man's life. Trust us, you won't want to miss more of our top recommendations and tips!