(credit: Griffin Club)
Since 1926, the Griffin Club, has been L.A.'s most iconic private club hosting celebrities, dignitaries and the like; an invitation only club, a place for families and friends to create truly bespoke memories and experiences. Founded by Merv Griffin's uncle Elmer and known then as the Westside Tennis Club, it was a gathering place for the most famous actors of the time. The members-only social and athletic club just unveiled the final stage of a $20 million renovation which began in 2015.
Under the stewardship of Meriwether Companies and Singerman Real Estate since 2015, the Los Angeles-based company wanted to honor the past while building for a brighter future with the recent capital expansion. Collaborating with CCY Architects and CRA Design, Meriwether Companies updated the club fit for a new generation of creatives and groundbreakers, families, entertainers and artists, while honoring the man behind it all in both name and spirit.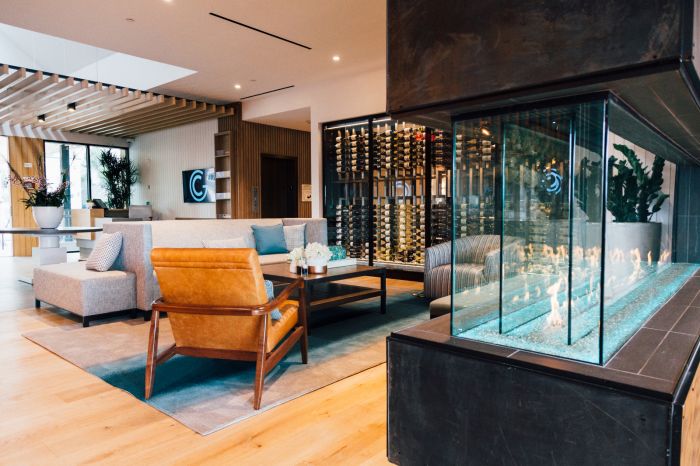 (credit: Griffin Club)
The refreshed space, which can be described as nature-inspired and meditative, is the epitome of the famous 'laid-back California-cool'. With a goal in mind to allow for club members to both socialize and work/play, the new entry features a two-sided fireplace clad in local artisan steel panels and a custom double-sided, full-height focal wine case aligning the private dining room available to members for small events. Staying true to the concept of creating as much natural light to flood the new spaces as possible, the main dining room and bar open to the 5,000 square foot outdoor terrace via floor-to-ceiling sliding doors while artwork from local LA artists adorns the walls. Its crisp vibe, one that is polished yet not pretentious filled with warm greys and shade of blues throughout the club, modernizes the club while not losing the allure and magic of Hollywood's past.
"Our membership these days is very diverse, active and community-focused so it was important for us to create a welcoming, vibrant atmosphere that is accessible for many different types of people," said Director of Membership and SVP of Meriwether Companies John Myers. "We are fortunate to have four acres with lots of outdoor space, and we have plenty to offer for those looking to gather as a family, socialize with friends and colleagues, work remotely and focus on health and wellness—all in a safe environment."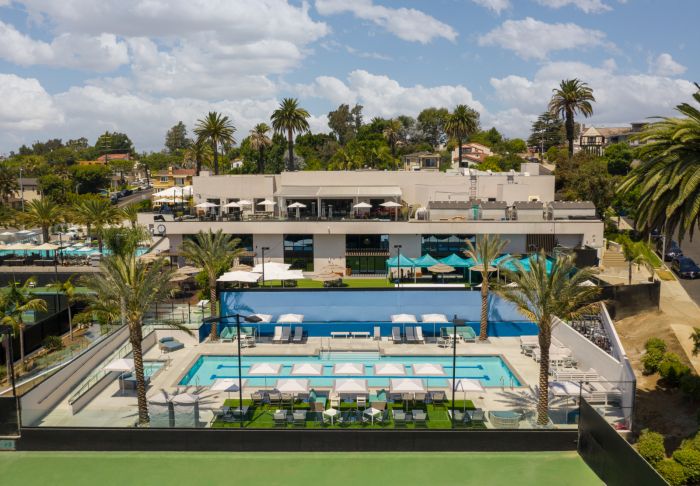 (credit: Griffin Club)
There is no shortage of options to stay fit with a state-of-the-art cardio and strength training facility, yoga and group exercise room, private Pilates room, spin room, eight newly resurfaced tennis courts with LED lights and a new junior Olympic size 25-yard recreational lap pool. As the only club in Los Angeles with two outdoor pools, the club also has new cabanas and jacuzzi, where members can bask in the California sun. Tennis continues to be a focal point for many members with regular play, tournaments, events, live ball, cardio tennis and youth and adult clinics available to members. The Club also offers several kid friendly activities including its KSWIM program, junior tennis program, after school program along with summer and winter camps that keep the kids moving and entertained throughout the year.
Griffin Club has also evolved since Covid to offer virtual workout equipment and classes, remote workspaces and a new app for members to book dedicated and socially distanced time slots for swimming, tennis, dining and exercise. Despite the pandemic, the Club continues to attract new members who are excited about everything that is available to them in the heart of West LA.