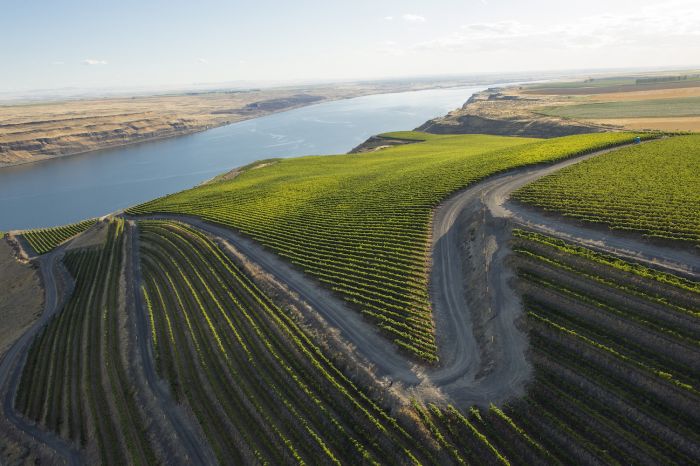 Benches Vineyard. Photo courtesy of Washington State Wine
Washington State is the second largest wine region in the United States. Its wines are enjoyed in more than 100 countries around the world. The Emerald State cultivates 70 grape varieties within 16 diverse AVAs, and is home to 1,000+ growers across 60,000 planted acres. Its climate is perfect for growing grapes; Washington shares the same latitude as other famous wine regions in Europe - 46 ° North – a sweet spot for grape growing due to the amount of sunlight, about 17 hours per day. Couple this with cool nights that help maintain the natural acidity of grapes and you've got a grape growing haven – or heaven! Here are 7 more reasons to validate your Washington State Wines vinous purchase:
1)    Rise of Rhone: That 46th parallel latitude means that Rhone varieties thrive across Washington's AVAs. Its northern latitude and long growing season combine for geography and climate that deliver a perfect balance of New World fruit with Old World structure. Washington winemakers are producing remarkable wines with Rhône-style grapes including Syrah, Grenache, and Mourvèdre.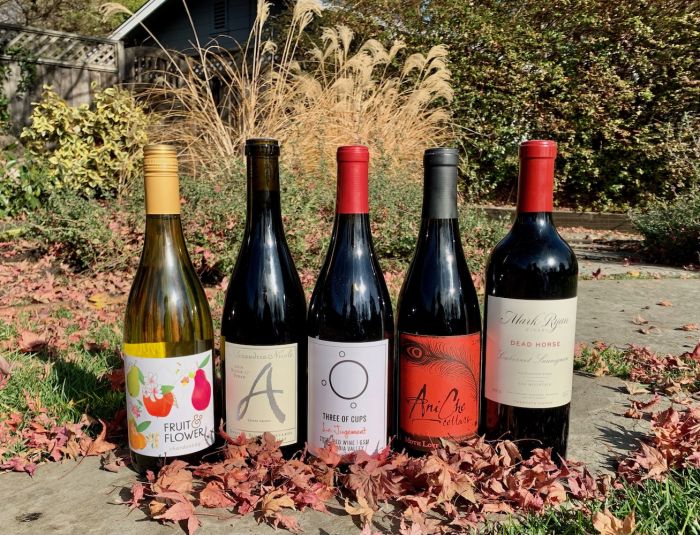 Photo: Fran Miller
2)    Lesser Known Grape Varieties: The same factors that allow familiar varieties to flourish also make it possible for Washington winemakers to stretch their creative wings and experiment with lesser-known varieties. The 16 unique AVAs provide growing conditions to allow different grapes to flourish in different climates, and the world-class Washington State University Wine Science Center provides grape growers and winemakers with cutting edge tools and information to make best in class wines.
3)    Youth is on Their Side: The identity, the culture, and the community of Washington Wine might be younger than other regions, but that youthfulness is an advantage when it comes to moving the needle. Washington is proud to have a diverse, and inclusive wine industry, from harvest to winery crews, and they always excited to shine a light on those who are leading by example and setting new standards for inclusivity and accessibility.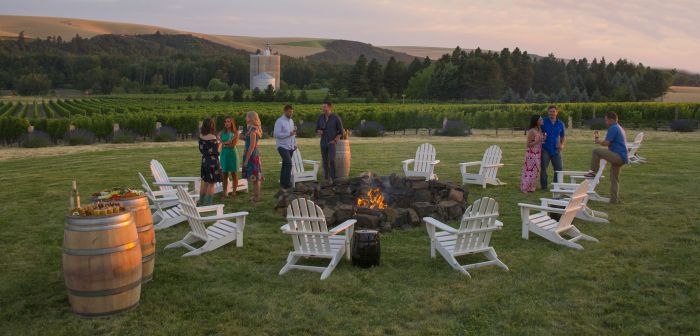 Special Tasting at Figgins Estate Vineyard. Photo courtesy of Washington State Wine
4)    Cabernet is King: Washington's grape ratio is about 36% white to 64% percent red. Cabernet Sauvignon has been Washington's top planted variety year after year, and in 2019 represented more than a quarter of the total grapes harvested. The king of the red grapes grows magnificently in Washington. The heady, fruity character of this complex grape develops slowly. In its youth, the wine appears more subtle and restrained than Washington Merlots. Its character can emerge as black currants, cherry, berry, chocolate, leather, mint, herbs, bell pepper or any combination of these. This wine ages beautifully. Many of the state's vintners employ traditional blending practices.
5)    Chardonnay Shines: Washington Chardonnay is one of the best manifestations of the state's winemaking efforts. While the variety is noted in many other regions as a rich and powerful wine, Washington Chardonnays are often distinctively crisp and delicate, like fresh apples. Oak is often used with a lighter touch, showing off the varietal character. Also, some wineries use secondary malolactic fermentation to add rich vanillin and buttery nuances. In 2019, Chardonnay marked the largest produced white variety coming in with more than 33,000 tons, or nearly half of all white grapes harvested.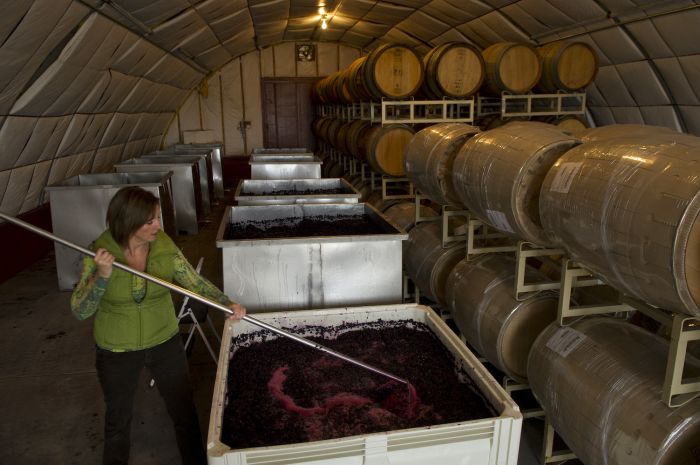 Arbor Crest Wine Cellars. Photo courtesy of Washington State Wine
6)    Sustainability: Washington wine is sustainable by nature. Insects, fungal diseases, and weeds just don't flourish there like they do in other regions. The climate and viticultural practices help keep pest populations manageable. Sustainability includes a broad set of science-based practices developed for local conditions and vineyards and winery scale. Objectives include natural resources, watershed protection, soil health, low input farming, employee and community stewardship and climate resiliency. Sustainable practices translate into environmental stewardship, social equity, and economic viability.
7)    Radical Winemaking: In Washington, it's not only acceptable to experiment with wine-growing and winemaking, it's encouraged. Washington pushes the boundaries of what is possible. This is the place where winemakers and growers can try new techniques, work collaboratively, think differently. Some may call it winemaking on the edge, but they call it the Washington way.