All photos Noel Kleinman
Los Angeles real estate development firm Alon Zakoot Design Studio, led by designer Alon Zakoot, in partnership with co-developer Michael Vaknin, have unveiled one of Southern California's newest architectural marvels: The Glass Ladies, a trio of meticulously designed, newly constructed, three-story glass and steel single-family residences in Los Angeles' beach neighborhood of Venice. Inspired by San Francisco's row of iconic Painted Ladies, Venice's Glass Ladies delivers its own dramatic juxtaposition of awe-inspiring vertical architecture with a commanding all-glass modern exterior façade matched with interiors uniquely designed to embellish each of the home's progressive framework. 
The first of the Glass Ladies trinity, Lucia, Lady of Luxe, recently hit the market for $6,200,000. Meaning "light" in Latin, the name Lucia represents the home's bright and luminous atmosphere while Luxe personifies its contemporary aesthetic with ultra-modern, opulent interiors. Located at 840 California Ave, the five bedroom, five-and-a-half bath, approximately 4,200 square foot home is one of Venice's only newly constructed single-family residences on the market today.
"The Glass Ladies collection offers Venice something other than another boring modern box," said Zakoot. "I wanted to turn Venice figuratively and literally on its side. I built The Glass Ladies as a way to offer Venice the beauty it deserves, despite its condensed location where housing has become more limited and land is now harder to obtain."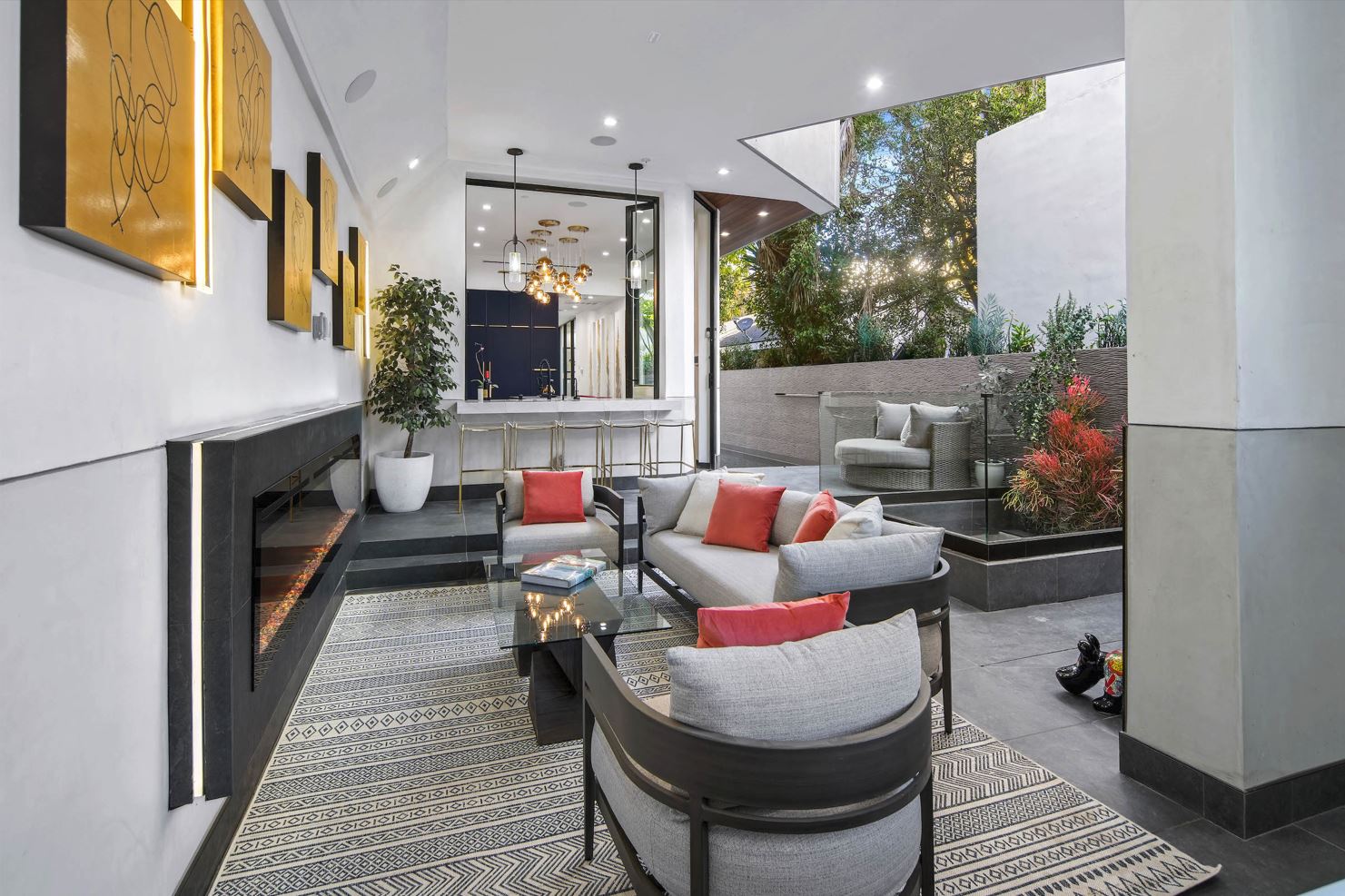 "The Glass Ladies are effortlessly and iconically Venice, with each unique design matching the effervescent vibe and cultural landscape of this rejuvenated and beloved beach town in its own special way," said Forster Jones. "These three geometric beauties add to the fabric of a community that residents and visitors alike have adored for years." 
Lucia, Lady of Luxe coyly beckons guests upon arrival. Past a garden of meticulously curated drought-tolerant flora is a towering glass-and-steel entrance. Inside, a voluminous foyer dazzles fusing exotic pattern, texture, and color. The formal living room serves as a showplace for receiving and entertaining visitors with its decadent fireplace, shimmering accent wall, and sliding glass to the front patio. A formal dining room is certain to spark conversation with a staircase-turned-art-piece commanding all attention. The kitchen is expertly on-trend, with double-waterfall island, state-of-the-art appliances, custom cabinetry, and pass-through to the main-level indoor/outdoor lounge, also with additional bar seating. Additional features include barbecue, garage entertainment space and saltwater pool. Upstairs, there is a pajama room, office, and fantastic primary suite with private balcony plus bathroom with floating dual-sink vanity, rainwater shower, separate tub, and brilliant clerestory window framing mature palms in the distance. There is also a walk-in closet, a wall of built-in storage, and a changing partition.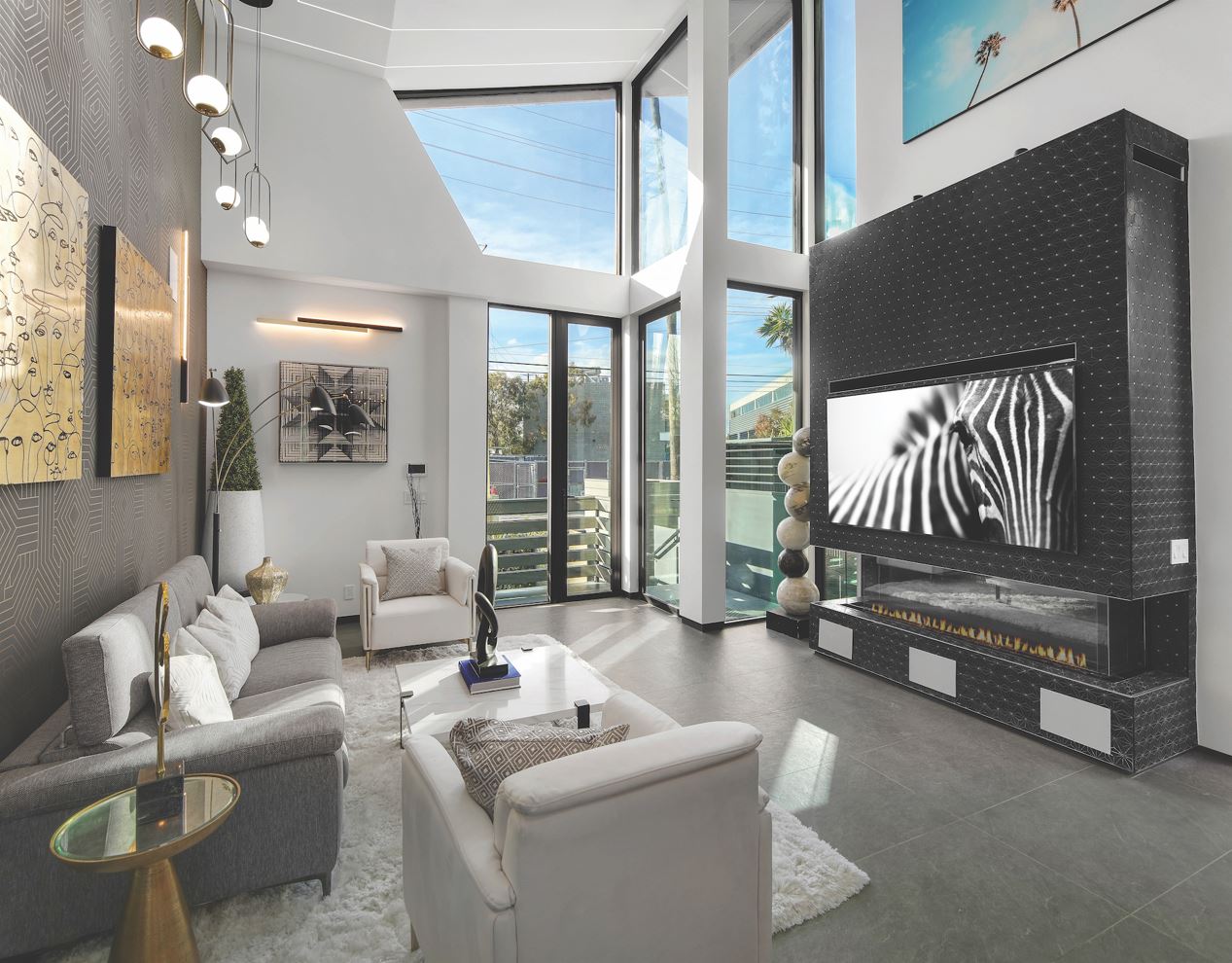 Other bedrooms and bathrooms are fitted with choicest fixtures and finishes. At the lowest level sits a junior primary suite with fireplace and exceptional outdoor living room with botanical wall and open air. Other highlights include an exciting underwater viewing window to the pool and a theater with built-in mini bar and blackout shades.
Lucia, Lady of Luxe, located at 840 California Ave. Venice, CA 90291 is listed for $6,200,000 million by Sally Forster Jones of Compass.